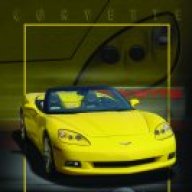 Joined

May 1, 2002
Messages

609
Location
Corvette

'95 LT1 Coupe, Comp Yell; C6 Roadster, Vel Yell
Sorry for the long subject but this is a weird situation. Have 95 LT1 with 50k miles. Since about 25k miles, intermittently when I start engine either cold or hot, the idle goes to normal high idle but may drop to about 500-600 rpm (with AC and headlight load and in drive) when engine reaches oper temp. This is normal operation when it is working properly. Then sometimes on start engine goes to normal fast idle until engine reaches oper temp but then idle drops to only 850 or so. I don't find this out until I come to a stop, having to apply a little more brake pressure due to the higher idle. Here is the weird part: 100 percent of time if I shut off engine and immediately restart the engine drops to normal idle speed! Sometimes the idle speed system will work correctly all day, with many stops and starts. Maybe the next day the idle stays higher and does not return to normal idle speed until.... I restart. Then she is fine for for the day.

- I have checked for vacuum leaks, although vacuum leaks are generally not intermittent.
- I have thoroughly cleaned the MAF intake system and idle ports. Even replaced IAC valve but all that did was to drop the high idle speed down about 100 rpm or so.
- OBD1 is showing no codes.
- This does not act like a mechanical issue like with binding linkage or sticking throttle plate.
- I have tried start up with partial throttle for a second or two to adjust IAC valve but this has no effect.

I am a little stumped on this one. I would appreciate your ideas.