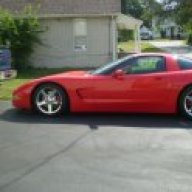 Joined

Jan 1, 2011
Messages

77
Location
Corvette

2004 Torch Red Coupe
First of all I'll like to say Hello, my name is Lou and here is my
Introduction post:
http://www.corvetteactioncenter.com...yet-another-new-guy-new-year.html#post1054930
Ok, On to my slight problem on my recently accquired 2004 C5 Coupe.
I went through the process of setting the memory for my seats
and mirrors ( haven't gotten to figuring out the setting for the Climate Control, Telescopic Steering Wheel, Radio, etc, etc )
Using the #2 Key Fob I set up the seats and mirrors and MOST of the time when I get in and start her up the seat will only move forward a couple of inches and then stops in its tracks.
I have to PUSH the #2 on the Memory Pad and only then will the seat move up to it's pre-set point.
Like I said, it's been happening a lot and it's a pain in the A**
Any suggestions or ideas?
BTW: GREAT FORUM YOU GUYS AND GALS HAVE HERE !