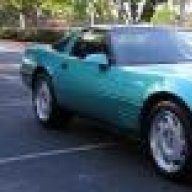 Joined

May 18, 2003
Messages

312
Location
Corvette

1991 Turquoise Metallic Coupe
I'm considering upgrading to a C6 and I was hoping to get a few questions answered. Currently looking at either C5 Z06 or C6.
Shopping around, I've narrowed it down to C6's between 2007-2009. Unless I find a deal on 2010's but that's not likely unless it's new. There are so many C6's out there from near new, to high mileage, from dealers to private owners, it's like muddling through a Nevada bordelo....not that I have any experience in that.
Seriously, here are my questions I hope you guys can help answer:
1) There appears to be standard C6's and those with Z51's. However, the Z51 option is not always advertised. How can I tell if a car has the Z51 option?
2) Is the Z51 option a worthwhile option? I mean, is this version that much better than a standard C6?
3) Is there a particular year that I should stay away from? Any notorious issues?
4) How reliable is the 6-speed autobox? I really would like to have the 6-speed manual for simplicity and control. But my wife hates driving a stick :confused so I figure the 6-speed autobox with paddle shift control will give the best of both worlds. However, since I do most of the driving, I should get to choose! She only drives on the freeway anyway when I'm taking a nap! :L I want the manual when I drive in the mountains, which I do often.
Thanks in advance to all.