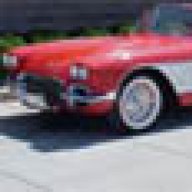 Joined

Sep 22, 2005
Messages

16
Location
Corvette

1961 Red, 1969 red, 1972 black, 1973 silver, 1990
I have a 1972 convertible that I am trying to figure out what is original, what is not, and what the car was originally. It is a 72 convertible. It was originally orange that I can see, it is now black. I can see it is a convertible
. The car is in solid condition, most all parts seem to be there. The car was garaged for 15 - 20 years. Interior looks so good it may have been replaced. Here the list so far:
1. It has a 1975 corvette engine in it.
2. It has a tilt steering with the wrong wheel
3. It has an automatic transmission.
4. It has replacement seat belts.
I made a hand written copy of the build sheet, I could read most of the info, I do not know how to post the picture of it. Hear is some of the info.
1. Date recieved 71/12/03 seems to match trim code of E10. Exp date 71/12/16
2. Order number 1fm583, zone 31, dealer 473
3. 19467 corvette convert, paint 2v987aa1 97-97 Ontario or
4. equipment codes, CKW, LR., T., B, BB,
5. Option No. 2V203AA, 2VGVAA, 2V2W4AA, (2VC05AA, convertble top) (2VFR2HS,Front Springs), (2V632EA,Rear springs) (2VLO8AA,Engine emission cert) (2VPT1AA,F70 x 15 tires) (2VU69AC,am/fm push button radio) (2V2KBAP,tire pressure sticker) 2V400BP,(black vynyl) (OGSS OR CUST E9?? CANT READ WELL) (ALSO HAND WRITTEN IS 2VAV3AA SEAT & SHOULDER /3 POINT. AND RN 3637)
6. Type standard engine, rear axel 3,36 ratio, base transmission, F HUB, R HUB
thanks
cal