Joined

Mar 27, 2003
Messages

3,659
Location
Corvette

'13 427 60th vert - CTS V Wagon(4-door Vette)
Took a little trip down to Midland, TX last week to see some Chaparrals - ones with big engines and big tires.
Most of Jim Hall's Chaparral 2 cars that still exist are on display in the Permian Basin Petroleum Museum. They are kept in running condition and every so often they pull one out and drive it around the museum's parking lot.
Last Thursday, the 2J was brought out. The big block started just fine but the snowmobile engine decided to leak gas instead of starting. So, we didn't get to see if run if full sucker mode - that was a little sad but, I got to talk to Jim Hall and the crew that maintain those cars and that was wonderful.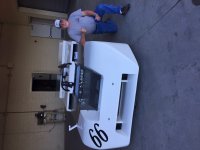 Me and the 2J (Can't figure out how to make it rotate upright.)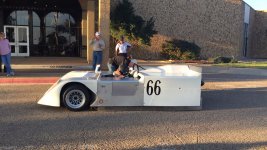 Parked in front of the museum while they try to figure out why the snowmobile engine will not start.
465 cid Chevy aluminum big block resides in the back.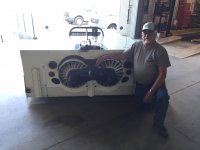 The big fans the snowmobile engine turns that suck the car to the track.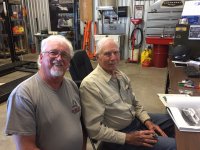 Me and Jim Hall - the man behind all the Chaparral cars.
Check out
Petroleum Museum | Chaparral Gallery Exhibits
Last edited: