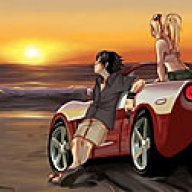 Site Administrator
Staff member
Administrator
Joined

Sep 16, 2000
Messages

13,915
Location
Corvette

1990 Corvette ZR-1
Chevrolet X-Man tech powers Corvette ZR1
2012-10-04
Chevrolet Media | Europe
How does hi-tech titanium power Chevrolet's legendary Corvette ZR1?
Chevrolet celebrates Corvette ZR1 hi-tech design and science innovations
What do a Paralympic runner, a golf club, and an executive business jet have in common with a 330 km/h Chevrolet Corvette supercar?
Lined up against each other, a comparison looks very strange indeed. However, the answer lies in the hi-tech titanium metal alloy that is used in the construction of everyday items around your home, the blades of jet engines and even Chevrolet's Corvette supercar.
A superhero in the metal world, titanium has the highest strength-to-weight ratio of any metal, yet is half the weight of steel and can survive intense heat hotter than molten volcanic lava – more than 1,650 °C or 3,000 °F. It is also the most corrosion-resilient metal, able to withstand being submerged in salt water, acid or chlorine. Titanium is the perfect material for use in super-critical structural applications like commercial airliners to laptop computers, spacecraft and supercars. Such is its incredible strength and stamina, that the chemist who discovered its properties in 1791 named it after the Titans of Greek mythology.
Bionic men and women
If you think bionic implants are the stuff of Hollywood, think again. For millions of people suffering from osteoarthritis, rheumatoid arthritis or restricted mobility, titanium has literally given them a new lease of life. Bionic implants are now routine procedures for surgeons who use titanium in life-saving orthopedic and hip ball-socket surgery. With non-toxic biocompatible properties, this light-weight material has been used since 1950 by surgeons to restores joint mobility to people of all ages.
Paralympic athlete
On the track and in daily life, titanium helps Paralympic athletes push the boundaries of performance and endurance. From hi-tech titanium prosthetics equipped with leading-edge sensors and microprocessors that adjust foot and ankle loads in milliseconds to light-weight wheelchairs, this super-durable material helps sports men and women across the world participate in sport.
Jet engine blades
If you are one of the 3.3 billion passengers who have traveled on a commercial airliner[SUP]2[/SUP] this year, titanium has played role in getting you to your vacation or business trip. From the jet engine blades and wings to the doors and even the seats, titanium is used to build anything in the aerospace world that's subjected to incredibly high stresses, fatigue or high corrosion.
Golf clubs and sports equipment
All the world's top golfers use clubs made with titanium heads and shafts to increase accuracy. When a golfer swings the club, the shaft of the club bends or flexes under load. Titanium reduces shaft flex and clubhead twisting enable the player to maximize power and higher club speeds at impact with a golf ball in their swing. Tennis racket, cricket and baseball bat makers use titanium for the same reason! It's not just the golf clubs which has benefited from titanium – top golfers, Jack Nicklaus and Tom Watson have had hip replacements![SUP]4[/SUP]
Chevrolet Corvette
To propel the Chevrolet Corvette ZR1 from 0-100 km/h in 3.9 seconds and push it on to a top speed of 330 km/h takes performance-driven design. Race-technology in a road car requires weight savings and use of titanium in its engine, suspension and exhaust to improve performance: Faster acceleration, better handling, higher cornering speeds and increased fuel economy. The Corvette's 6.2-liter LS9 V8 engine employs lightweight titanium intake valves and connecting rods in the engine, delivering 638 bhp. To make additional weight-savings, a 26-pound titanium exhaust system and tailpipe assembly replaces a 44-pound stainless steel system – a 41 percent weight saving. By using titanium, it also offers natural corrosion resistance and durability and a virtually unlimited life span.
Corvette and the Paralympic X-Man
There is no better example of seeing titanium science and innovation at work than bionic men and women who push the boundaries and limits of human endurance, speed, strength, power and stamina as Paralympians competing across track, field and road events.
If you look closely at the Corvette and the runner, you'll see both share a relationship for innovation; both use hi-tech hand-built titanium suspensions. Each suspension shares exactly the same biomechanical motions that push the limits of human and automotive on-track performance by optimizing traction and cornering speeds in milliseconds.
"The lower limb segments of the human body absorb energy from the muscles under tension, and provide a 'ride' for the body that is smooth and comfortable even under bumpy terrain or under heavy impacts," says Dr. Neil Smith, a world-leading expert in human bio-mechanics at Chichester University, U.K., that has seen him work with international footballers and athletes.
While the Corvette's computer aided Magnetic Selective Ride Control suspension is tuned to provide the ultimate ride and grip the road, the runner can have titanium hip joints that are twice the density of human bone and running blades made from the same titanium materials found in the Corvette's light-weight alloy suspension components.
"Human body joints are made from bone muscle, cartilage and tendons, which over time can fail. When human tissue fails we look to places outside the medical world, like the automotive industry, for materials that can repair human 'shock absorbers and suspension components' – space age materials such as titanium and carbon-fiber," adds Dr. Smith.
Whatever its uses, titanium certainly earns its heritage of the Titans of myth by creating the super human and the super machine.
Sources:
1. Trademark of Hurst Performance, Inc.
2. International Air Transport Association (IATA), 2011
3. Brånemark System implants
4. Britannica Online
About Chevrolet


Chevrolet is General Motors' largest global brand with annual sales of more than four million vehicles in more than 140 countries. It is the fourth biggest global car brand in terms of sales and also one of the fastest growing brands in the world. Chevrolet cars combine bold design, performance, innovation and practicality. They provide outstanding value for money. Established in the U.S. by Swiss émigré Louis Chevrolet in 1911, the brand celebrated its centenary in 2011. The brand was re-launched in Europe in 2005. It is represented with a total of 2,500 sales and service outlets in Western and Central Europe. The European Chevrolet line-up includes the Spark city car, the small Aveo sedan and hatchback, the compact Cruze sedan and hatchback, the Orlando family van, the Captiva SUV, the legendary Camaro and Corvette sports cars and the extended-range Volt electric car. In 2012, Chevrolet is launching the Cruze station wagon and the Malibu mid-size sedan. More information on Chevrolet can be found at www.chevroleteurope.com or
media.chevroleteurope.com
.