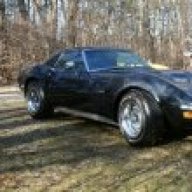 Joined

Nov 2, 2007
Messages

441
Location
Corvette

1972 LS5 Convertible PS, PB, A/C
First of all, it's good to be back! After two years of no Corvette in my life, I'm finally working on the car again. Moving the family and having two small kids doesn't help with time in the garage.
Ok, so here is the problem. . .and this happens when the car is stationary with the shifter in neutral:
There is a whirring noise coming from the transmission / clutch area. At first I thought it might be the throw out bearing. . .but the behavior is not making sense. When the cluch is engaged (peddle released and fully up) it makes that whirring noise. However when I push the clutch in (clutch disengaged pedal fully down), the whirring noise winds down and stops. HOWEVER, the whirring noise does not stop until the clutch is fully disengaged. . .in other words, if you slowly push the clutch peddle down the whirring noise persists all they way down until the cluch please actually releases from the fly wheel. I would think that if it was the throw out bearing. . .then the noise probably would have stopped when the bearing started to get loaded on the flex plate fingers. But no, the noise persists at the same volume and speed righ up until the clutch releases from the flywheel.
I have a bad feeling it's the input shaft/counter shaft, or other constant mesh gears in the trans while in neutral. That seems to make the most sense to me as all those parts are spinning when the clutch is engaged. . .then they stop when you disengage the clutch.
The pervious owner swore up and down that the car had a M22 in it. But when I inspected the car, I showed him that the trans stamping codes showed that it was the numbers matching correct M20 transmission. So unless he had it rebuilt with M22 gears. . .it's an M20. He stopped being so sure after that lesson. Now I'm not so sure.
Is this whirring noise normal for an M22? I know my pervious car with an M20 didn't make this noise. . .