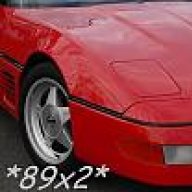 Joined

Feb 18, 2002
Messages

10,357
Location
Folks, I just wanted to provide a quick site update for the
www.callawayownersgroup.com
information pages, as we draw 2006 towards a close.
The big news in the Callaway world this month was the debut of the all-new Callaway C16 supercar! Turbo Luigi has chronicled its unveiling at the Los Angeles Auto Show for us, with his story right on the main page of the Callaway Owners Group website (look under the Important News link).
Additionally, the registrations for the two BIG Callaway Corvette 20-year celebrations have been added to the EVENTS pages – here is a link:
http://www.callawayownersgroup.com/Pages/Events.htm
If you are registering more than one Callaway for the Carlisle event, you may have to call the grounds directly to manage the additional car – I always do this, and the Carlisle staff is EXTREMELY helpful and courteous!
The Bowling Green, Kentucky event in May, is set to be a BIG SHOW! With tech seminars and a few surprises that still have not made it to the online agenda, it is surely THE place to be in May.
For the Bowling Green Event, there may be some limited space available under shelter – This would be for cars such as Speedsters, or other Callaways including the racing models that may not have side glass. If you are planning to attend with one of these rare machines, please contact me directly by e-mail to discuss your needs. We have been working with the NCM Staff over the past few months, and they are looking to help any way they can – with ample notice, we can make virtually anything a possibility!
Closing out 2006, the Callaway of the Month series will kick back into gear in January – In the meantime, if you have not checked out the current (Nov. / Dec.) COTM, the link can be found on the main pages of the
www.callawayownersgroup.com
site.
If you have any questions or suggestions, please make them known here, or by email.
In the meantime, enjoy your Callaways & thank you for making THE Callaway Forum the AMAZING place that is has evolved into :cool Have an enjoyable holiday season!
All the best, C. :cool