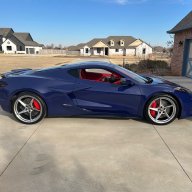 Joined

Mar 27, 2003
Messages

3,677
Location
Corvette

'13 427 60th vert - '21 Silver Flare Coupe - CTS V Wagon(4-door Vette)
FYI:
In the past, the Corvette Assembly Plant would take new buyers in to the plant and let them watch their car being build on a case by case basis. You had to know who to call at the plant and they would try to make it work for you. GM and the Corvette Plant worked real hard to support the new Corvette buyer. The problem is word got out and more requests were coming in that the plant personnel could handle. The problem is they really wanted to handle it.
So, this process has been formalized and handed over to the National Corvette Museum to manage. It's called the "Covertte Buyers Tour". Check out
http://store.corvettemuseum.com/services/buyertour.asp
for more information.
I bring this up because I was at a Car show in my home town of Mustang, OK this weekend - the city name gives you a good idea about the main sponsor of the show and the type of car that filled most of the show area. My wife and I had the chance to talk with a new GT500 owner. My wife told him about our experience with Museum delivery or our Corvettes and he told of his experience and frustration with
F@#$
and the Rustang plant. Seems that
F@#$
and the Rustang plant do not offer such things even for limited editions like the GT500. In fact they do not allow plant tours of any kind. When the guy offered to send the plant a camera and have them shoot pictures of his car, they refused that also.
Nice to know that GM, Chevrolet, the Corvette Plant and the NCM go the extra mile to provide new owners with this wonderful experience.
That is all.