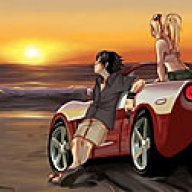 Site Administrator
Staff member
Administrator
Joined

Sep 16, 2000
Messages

13,762
Location
Corvette

1990 Corvette ZR-1
From The Car Connection at
http://www.carconnection.com:
Chevy unveils the 50th-anniversary Corvette and Indy 500 pace car — and leave some wanting more.
by Bob Hall
SPEEDWAY, Ind. — Chevrolet Motor Division and the Indianapolis Motor Speedway (IMS) joined forces last week for a giant media event to show the world the 50th Anniversary Corvette, its Indy 500 Pace Car variant, and the man who'll drive the Pace Car during May 26's running of the "greatest spectacle in racing."
Wisely, Chevy combined its unveilings with IMS's already scheduled Indy 500 Media Tour, so it was guaranteed what Chevy spokesman Bob Tripolsky called "an extraordinary crowd of journalists," when he addressed them during lunch in IMS's Press Room. We say wisely because the 50th anniversary edition of the Corvette, while as fine as a Corvette ever has been, is close enough to last year's car to be mistaken for it at parties.
That morning most of the racing journalists had covered three racing-related press conferences featuring current Indy Racing League (IRL) drivers and/or past Indy 500 champions. The last of the three made real news: IRL Director of Operations Brian Barnhart announced that "soft walls" would be installed on the outside walls of all four turns of IMS in time for its May 5th opening day for race teams.
Following Tripolsky to the podium was IMS President and CEO Tony George who referred to "Chevrolet's long and rich history with the speedway," before handing off to Chevrolet General Manager Kurt Ritter for the obligatory commercial on how well Chevy's been doing lately. He did follow George's lead by pointing out that the 2003 Corvette will be the 13th Chevy to pace the Indy 500 (all since 1948), giving it bragging rights among all brands. Five of the 13 have been Corvettes. Examples of each Pace Car ¾ from 1978, '86, '93 and '98 ¾ were displayed outside near the still covered '03s.
Ritter's main duty was to introduce Hollywood actor Jim Caviezel as this year's pace car driver. Although the soft-spoken Washington state native has appeared in 15 films (Angel Eyes, The Count of Monte Cristo and High Crimes among them) he was unknown to probably two-thirds of the press corps. Even more of a mystery was his choice, as a non-Hoosier with no known history of motor sports involvement. That said, Caviezel was humble and seemed genuinely honored to assume his high profile role.
Carryover excitement
Finally came Corvette Brand Manager Rick Baldick to the microphone for actual car information on what is essentially a carryover C5 with only one major new mechanical improvement, Magnetic Selective Ride Control. By using magneto-rheological fluid (which changes viscosity based on presence of magnetic force) in the shock absorbers and exposing it to a magnetic charge, continuously variable suspension damping is provided, for better control of both wheel and body motion. The system is optional on "regular" Corvette coupes and convertibles, but standard on the 50th-Anniversary Special Edition.
Speaking of which, Chevy had done an excellent job keeping the 2003 Corvette under wraps ¾ literally and figuratively ¾ until all four versions were unveiled alongside IMS's famous "yard of bricks." First to lose its cover was the practically unchanged Z06, followed by a convertible and hatchback coupe, both in 50th-Anniversary trim. These Special Edition models are painted "50th-Anniversary Red," a color available on all 2003 Corvettes but only during the 2003 model year. They also have specific badging, a Shale interior and champagne-painted anniversary wheels with special emblems. Embroidered 50th-Anniversary logos on the seats and floormats, padded door armrests and grips complete the package, except on the convertible, which also gets a matching Shale top.
All 2003 Corvettes will feature 50th-Anniversary emblems front and rear. It's the numeral 50 with Corvette's signature crossed flags inside the zero. New for '03 standard equipment includes fog lamps, sport seats, power passenger seat, dual-zone automatic HVAC (on coupe and convertible), and a parcel net and luggage shade on the coupe. CRAS child seat hooks have been added to the passenger seat for easier child seat connection.
Caviezel joined Baldick, George and Ritter to pull the wraps from the Official Pace Car, which is unlike the four previous Corvettes so-honored in one important way. "In past years we've done special edition Indianapolis 500 Pace Car Replicas especially for the event," said Baldick. "This year they'll be using our regular production 50th-Anniversary Corvette coupe. After all, Corvette is America's performance icon." It also marks the first time that the model year of the Indy 500 Pace Car won't be the same as the year of the race.
After the unveilings and photo opportunities, media attendees were treated to rides around the legendary 2.5-mile oval courtesy of Indy Racing League drivers Sam Hornish and Buddy Lazier, and GM's performance guru Jon Moss. Even at 140 miles per hour on the straights and 110 in the corners, the '03 Corvette behaved like a boulevard cruiser doing 40. Just ask Jim Caviezel.