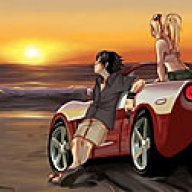 Site Administrator
Staff member
Administrator
Joined

Sep 16, 2000
Messages

13,913
Location
Corvette

1990 Corvette ZR-1
May 14, 2023
Fourth-place finish in team's 25th race on Monterey Peninsula​
MONTEREY, Calif. (May 14, 2023)
– Corvette Racing's 25th start at WeatherTech Raceway Laguna Seca didn't end the way the team had hoped as the No. 3 Mobil 1/SiriusXM Chevrolet Corvette C8.R finished fourth in GTD PRO in Sunday's MOTUL Course de Monterey.
Both Jordan Taylor and Antonio Garcia led in class during the fourth round of the IMSA WeatherTech SportsCar Championship, but a costly late-race penalty ended any chances of the team's ninth class victory at Laguna Seca.
As it did a year ago when it led early, Corvette Racing played to its strength Sunday with a pit stop near the 30-minute mark under full-course yellow. Taylor had moved up to fourth in class at the start and brought the C8.R to the pit lane for four tires and fuel. A quick stop gained Taylor two spots to second, which became three to first when the then-leading No. 9 Porsche was penalized for leaving pitlane with pit exit closed.
Taylor continued to lead to the one-hour mark when Corvette Racing engineers brought him in again under another full-course yellow for fuel, tires and a driver change to Garcia. Another quick stop got Garcia out second in class – only because the No. 23 Aston Martin took less fuel and no tires to leave the pitlane first.
The order remained unchanged when the final scheduled GTD PRO stops began with 67 minutes to go. The No. 3 was the next-to-last car to pit for fuel and four more tires as Garcia rejoined second and 3.8 seconds behind the Aston Martin.
Disaster struck during the race's final full-course yellow inside the final hour when Garcia inadvertently followed the GTD PRO leader around the safety car, which resulted in the penalty.
Corvette Racing's next event in the IMSA WeatherTech SportsCar Championship is the Sahlen's Six Hours of The Glen on Sunday, June 25 from Watkins Glen International.
ANTONIO GARCIA, NO. 3 MOBIL 1/SiriusXM CHEVROLET CORVETTE C8.R – FINISHED FOURTH IN GTD PRO: "It's a situation where when it's green, you're fighting all the GTDs. But when it comes to the safety car, we aren't the same category. So we need to figure that out. The safety car split the GTD field. The GTD leader was the real GT leader, so that's why everyone behind us moved to the right to get a pass-around, and the 23 moved to the right, as well. But because we were the GTD PRO leaders, we should have stayed where we were. But that's the way the rules are. I just made a mistake and went to follow the 23 when they were wrong. I had a big queue of GTDs behind me, and all I could see behind me were GT cars moving to the right. So that's what confused me. If I could have seen the Mercedes or Lexus GTD PRO cars behind me staying to the left, I would have figured it out. But there were a ton of cars between us. It's a mistake that shouldn't happen. On race pace, we had a car to win. We did everything right on strategy to be in the lead. As we showed at the end, I think we had a little more on tire degradation. We'll review what happened, do a full analysis of the situation, and I know this won't happen again."
JORDAN TAYLOR, NO. 3 MOBIL 1/SiriusXM CHEVROLET CORVETTE C8.R – FINISHED FOURTH IN GTD PRO: "With how the weekend started, we were definitely behind the eight-ball with our issues in practice. It was a good bounce-back to be closer to the front in qualifying than a year ago, and our race pace today seemed pretty strong. We were able to get to the lead with a great pit stop after the second yellow. Once we were in clean air, the car was strong and we could kind of control the race. We definitely didn't have the fastest car. But we had track position, and around here that's so important. The guys did a good job. All our stops were smooth and clean. It's one of those things where one little thing where can really impact a race. It's one of those things that happen, and I can guarantee you it won't happen again. This will be a big learning lesson."
About Chevrolet
Founded in 1911 in Detroit, Chevrolet is now one of the world's largest car brands, available in nearly 80 countries with nearly 2.7 million cars and trucks sold in 2021. Chevrolet models include electric and fuel-efficient vehicles that feature engaging performance, design that makes the heart beat, passive and active safety features and easy-to-use technology, all at a value. More information on Chevrolet models can be found at
www.chevrolet.com
.