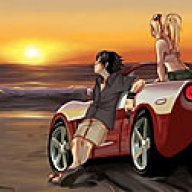 Site Administrator
Staff member
Administrator
Joined

Sep 16, 2000
Messages

13,894
Location
Corvette

1990 Corvette ZR-1
CORVETTE RACING IN CANADA: Banner Day for Corvette Teams
by Randall Shinn
Corvette Racing
Press Release
Two GTLM podium positions for Corvette C7.Rs; Action Express Racing goes 1-2 again
Gavin, Milner drive to runner-up finish in championship-leading Corvette C7.R
Garcia, Magnussen claim GTLM podium, best finish since Rolex 24 runner-up
Cameron, Curran take overall victory after 2015 Prototype runner-up

BOWMANVILLE, Ontario, Canada
(July 10, 2016) – Sunday was a good day to drive a Chevrolet Corvette-powered race car in the Mobil 1 SportsCar Grand Prix at Canadian Tire Motorsport Park.
Corvette Racing claimed two podium positions in the GT Le Mans (GTLM) class of the IMSA WeatherTech SportsCar Championship, and Corvette Daytona Prototypes swept the top four overall positions with Action Express Racing's Eric Curran and Dane Cameron winning their first race of the season.
Oliver Gavin and Tommy Milner drove their No. 4 Mobil 1/SiriusXM Chevrolet Corvette C7.R to a runner-up GTLM finish in the two-hour, 40-minute race as they retained their season-long lead in the Driver's Championship for the category, as did Chevrolet in Manufacturer points. Third place went to the pole-sitting No. 3 Mobil 1/SiriusXM Chevrolet Corvette C7.R of Antonio Garcia and Jan Magnussen for their best result since opening the season with a runner-up class finish in the Rolex 24 At Daytona.
Gavin and Milner picked up four positions from their sixth-place qualifying result in a measured drive through the field. For the second weekend in a row, strategy and pit stop execution proved key as Milner leap-frogged the No. 3 car following the last stop for both cars, which saw them pit on consecutive laps with a little under an hour to go.
Garcia had taken over for Magnussen with 57 minutes, but Milner had the advantage with warmer Michelin tires and moved ahead of his teammate on Garcia's outlap. Gavin had started the race in the No. 4 Corvette and picked up a position before the end of his 43-minute stint.
Garcia and Magnussen led much of the race's opening half before the final pit sequence. Magnussen drove the middle stint while Garcia had the opening and closing ones. Garcia, who claimed pole position, made up two positions in the final 54 minutes to climb back on the podium with Magnussen. The result unofficially moved them to fifth place in the GTLM Driver's Championship.
In the Prototype category, Curran and Cameron went from sixth at the start to their third victory in two seasons in the No. 31 Whelen Engineering/Team Fox Corvette DP. After finishing second a year ago with Curran, Cameron drove the No. 31 Corvette DP to the lead with 47 minutes remaining and won by 10.112 seconds. The victory increased Chevrolet's lead in the Prototype Engine Manufacturer Championship to nine points.
Both Action Express Corvette DPs took left-side tires only on their final pit stops, and the third-place Wayne Taylor Racing No. 10 Konica Minolta Corvette DP of Jordan Taylor took only two tires as well. Taylor got out of the pitlane first as he pitted the same lap as the No. 5 Corvette DP but struggled with grip at the front of the Corvette DP. That allowed Barbosa to move into second with six minutes left.
Ricky Taylor led the first 11 laps after a strong start of the race from the second position.
Marc Goossens and Ryan Dalziel were fourth for Visit Florida Racing in the No. 90 VisitFlorida.com Corvette DP. Both drivers took turns leading the race during their respective stints.
Sunday's results mean Barbosa and Fittipaldi keep their lead in the Prototype Driver's Championship standings with Curran and Cameron four points back in second place. Jordan and Ricky Taylor are third followed by Goossens.
The next event for Corvette Racing is the Northeast Grand Prix from Lime Rock Park on Saturday, July 23. Corvette DPs return to the track at the Continental Tire Road Race Showcase at Road America on Sunday, Aug. 7.
CORVETTE RACING GTLM QUOTES

OLIVER GAVIN, NO. 4 MOBIL 1/SIRIUS-XM CHEVROLET CORVETTE C7.R – RUNNER-UP IN GTLM:
"The top step is always the ultimate goal. But today, would we have taken second at the beginning of the day? I think we most probably would have. It was a tough battle and a good battle. Tommy did a great job when he got in the Corvette. He really hustled the car, and Reed (Sullivan), our engineer, made some great changes to the car to make it more comfortable for Tommy in the end. It's very good points in the championship, and it's very close between us and the 67 car. I think it might be like that for the rest of the year. But the nice thing is that we are right back in the hunt. The Corvette was fast and good today. The team did a fantastic job in the pits, and you have to give them credit. They kept digging and digging all the way through the race. So I'm very happy."
TOMMY MILNER, NO. 4 MOBIL 1/SIRIUS-XM CHEVROLET CORVETTE C7.R – RUNNER-UP IN GTLM:
"I feel like we've definitely earned this one. The car doesn't feel that much different than the last few races, but we are in the hunt. All the work we did the last couple of races to find some speed in our Corvette has paid off today. Olly did a great job in the first stint. It's so tough to pass here, especially early on when you're all stacked up on top each other. Keeping his nose clean was an awesome job by him."
ANTONIO GARCIA, NO. 3 MOBIL 1/SIRIUS-XM CHEVROLET CORVETTE C7.R – THIRD PLACE IN GTLM:
"It's a little bit of a shame. We led two-thirds of the race. I feel like the race came down to the last pit stop. We were the only car to do a driver change, so maybe it took a little longer than the other cars that pitted, especially the winning car. They ended up gambling on fuel. It put me in a very difficult situation with Tommy (Milner) on warmer tires. But it's a 2-3 for Corvette so I think this is a very good bounceback for us."
JAN MAGNUSSEN, NO. 3 MOBIL 1/SIRIUS-XM CHEVROLET CORVETTE C7.R – THIRD PLACE IN GTLM:
"The way the 912 and 67 cars pitted, which put them out front on the second stop, was the race. That was a gamble we couldn't take because we were in the lead at the time. We would have looked pretty foolish if we tried it and didn't work out. That put us a little bit behind for when Antonio got back in, but he did great to fight his way back up to third. When you're leading two-thirds of the race, you want the biggest trophy. But this is a good step forward for Corvette Racing with both Corvettes on the podium. Now we need to try and get some wins."
DOUG FEHAN, CORVETTE RACING PROGRAM MANAGER:
"Today was a tremendous example of why we consider the IMSA GT Le Mans category to be the best GT racing in the world. Each car and each manufacturer were competitive, and taking two positions on the GTLM podium is a great achievement for the Corvette Racing program. The strategy was very solid for both Corvette C7.R teams, as was the execution in the pitlane and by all four drivers. All in all, it was a very good day in results and points for Corvette Racing."
CORVETTE DAYTONA PROTOTYPE QUOTES

DANE CAMERON, ACTION EXPRESS RACING NO. 31 WHELEN ENGINEERING/TEAM FOX CORVETTE DP – PROTOTYPE RACE WINNER:
"It's certainly a nice feeling to feel like we've gotten the monkey off our back here at Canadian Tire Motorsport Park. Throughout my career, I don't think I've ever been off the podium but I had never won here. It's a really nice feeling to finally get that. Last year we came so close with an extra pit stop and a small issue but still nearly won the race. It's really nice to get some redemption from all those 'what ifs' and 'almosts'. Our Corvette DP was awesome all day; it was so good in traffic and so good in clean air. Once the Action Express boys got us to the front, we could really set the pace with our Whelen Corvette. Once we got to the front, no one could touch us and we could control it from there. It's really fantastic day for Action Express to be 1-2 again. We inched our way toward the front in the Driver's Championship, which is the goal. A big thanks to Whelen Engineering and Sonny Whelen for the chance to drive this car."
ERIC CURRAN, ACTION EXPRESS RACING NO. 31 WHELEN ENGINEERING/TEAM FOX CORVETTE DP – PROTOTYPE RACE WINNER:
"What a day! It's so much fun to move up one position from last year after finishing second. This Whelen Engineering Corvette DP was spot-on. It was a tough start to the weekend with all the rainy conditions, and qualifying was tough. I had a reasonable run at the beginning of the race but traffic was tough. The pit stops were unbelievable. The Action Express guys just nailed the pit stops. We kept jumping cars on every stop. Dane did an amazing job right to the end. I feel like I have the best team, the best crew, the best sponsors and the best teammate. I've won a lot of races here in a red-and-white Whelen Corvette, so it's nice to get back up on that top step. I love coming to this track; it's so much fun. Hats off to the crew, Whelen Engineering, Sonny Whelen and Team Chevy. It's nice to have a 1-2 finish again for the second week in a row."
JOAO BARBOSA, ACTION EXPRESS RACING NO. 5 MUSTANG SAMPLING CORVETTE DP – PROTOTYPE RACE RUNNER-UP:
"We had an usually tough race. At the end of the day, I'm happy with the results and the points. I'm happy that Action Express finished 1-2. At one point, I thought the best we could get was fourth place. But the team had a great strategy on the stops and only put on left-side tires on the last stop. Initially I was very concerned about that. It turned out to be perfect though. We were able to leapfrog the 90 car and then the 10 car looked like it suffered a little bit on pace at the end of the race, so I was very happy with that. Coming out with second place is a very good result. There is still a long way to go in the championship, and a lot can happen. But it's always better to be out front than in the back. Congratulations to the 31 guys. They had a perfect race with a great car and great strategy."
CHRISTIAN FITTIPALDI, ACTION EXPRESS RACING NO. 5 MUSTANG SAMPLING CORVETTE DP – PROTOTYPE RACE RUNNER-UP:
"Overall, I'm very happy with where we finished and very happy that we finished 1-2 today for Action Express Racing. Hats off to Eric (Curran) and Dane (Cameron). They drove a perfect race, and that's it. Let's turn the page and move on to the next one."
JORDAN TAYLOR, WAYNE TAYLOR RACING NO. 10 KONICA MINOLTA CORVETTE DP – THIRD PLACE IN PROTOTYPE:
"That was an OK day. Third place is good points, but the guys we are racing in the championship finished ahead of us. So that's a little frustrating. A positive to take away is that last year at this race, we were quite far off the pace and this year we were right in the hunt pace-wise. I think if we had track position we would have been in good shape. We had a big drop-off on the front tires at the end though, so there was no way I was going to hold off the 5 car. There are good and bad things to take away, but a podium is not a bad thing."
RYAN DALZIEL, VISIT FLORIDA RACING NO. 90 VISITFLORIDA.COM CORVETTE DP – FOURTH PLACE IN PROTOTYPE:
"The positive is that we were consistently one of the fastest cars in our class again. Canadian Tire Motorsport Park is a great track to come to but unfortunately with the high-speed nature of the track it's extremely difficult to overtake. To be honest, with all of the traffic, nobody is doing anything wrong, but everyone is in their own race. Unfortunately you can lose six seconds on one lap and then be clear on the next lap, but it's kind of the luck of the draw. So we gambled to try to get track position which paid off at the start. We actually were just as good on two tires as we were on four, so from that point of view everything worked correctly. Without a yellow, we knew it was a gamble, but it is what it is, and we had a good solid race."
JIM LUTZ, CORVETTE DAYTONA PROTOTYPE PROGRAM MANAGER:
"It doesn't get any better than having four Chevrolet-powered Corvette Daytona Prototypes sweep the first four positions in the IMSA WeatherTech SportsCar Championship. All four entries showed exceptional pace, reliability and strategy. Congratulations go to Eric Curran, Dane Cameron and everyone on the Action Express Racing No. 31 Whelen Engineering/Team Fox Corvette DP for winning today's race. The results put us in a great position in all three Prototype championships, including our efforts for Chevrolet's fifth straight Prototype Engine Manufacturer title."