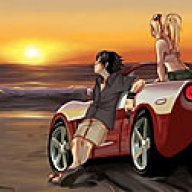 Site Administrator
Staff member
Administrator
Joined

Sep 16, 2000
Messages

13,906
Location
Corvette

1990 Corvette ZR-1
Corvette Z06 GT1: When Is More Too Much?
May 28, 2009, 7:32 am
By Ezra Dyer
New York Times
When it comes to horsepower, it's always tempting to declare that some new beast of a car has edged over the brink of excess. On the topic of the Bugatti Veyron, Pierre Henri-Raphanel, Bugatti's test driver, told me that there would never be another car like it. He was speaking of overall engineering rather than outright horsepower, but his feeling that the Veyron represents a high-water mark for automobiles is inextricably tied to its four-digit horsepower number. In this view, the Veyron is to cars what the Concorde was to commercial airliners — a singular feat. It's all downhill from here.
That would be depressing, except for cars like the Chevrolet Corvette Z06. The Z06 packs 505 horsepower — about half a Veyron's worth — into a package that weighs 3,180 pounds. It goes from zero to 60 miles an hour in 3.7 seconds (in first gear). Its 7-liter V-8 redlines at 7,000 r.p.m. Top speed is 198 miles an hour. This is not a slow vehicle. But it's not the fastest car on the road. It's not even the fastest Corvette.
I recently drove a Z06 GT1 Championship Edition, which is essentially a regular Z06 that's festooned with jaunty skulls — a skull on the hood, skulls on the headrests, skull on the center console. The skull is the logo of the Corvette Racing team, and his name is Jake, though I took to calling him Poor Yorick.
The GT1 Edition's bold livery prompted one repeated question from passersby: "Is this the ZR1?" The ZR1, the current Corvette flagship, boasts 638 horsepower and a top speed of 205 miles an hour. Thus I found myself replying, my voice inflected with disappointment, "No, this is the Z06. Just the 505-horsepower model." Sorry, folks, nothing to see here. Just a car that can merge onto the highway in first gear.
Which I tried, once or twice. Flooring the Z06 in first gear unleashes acceleration that almost catches you off guard, even though you're the one stepping on the gas. The rear end struggles to put the power down, despite mammoth 325-section-width Goodyear tires. The shift into second gear brings more wheel spin, which is exciting, because now you're doing more than 60 miles an hour. If you roll along at 55 in second gear and hit the accelerator, the digital heads-up display projected on the windshield essentially skips directly to 75 m.p.h. I don't know how long it takes the Z06 to go from 55 to 75 miles, but it feels instantaneous.
I love excess as much as anyone, and if someone made a car with 2,000 horsepower, I would surely want to drive it. But the main question that kept running through my mind as I catapulted up on-ramps was: They make one of these with 133 more horsepower? The only way that will come in handy is if you commute across the Bonneville Salt Flats.
So, if indeed the inexorable march toward greater horsepower is due for a plateau, the Z06 GT1 Edition offers consolation that maybe that's not so bad. The Z06, lost in the hullabaloo over the ZR1, is a reminder that we passed the point of excess a long time ago. I'd peg it at about 100 horsepower and four skulls back.