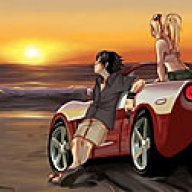 Site Administrator
Staff member
Administrator
Joined

Sep 16, 2000
Messages

13,870
Location
Corvette

1990 Corvette ZR-1
Corvette's automatic is no longer a compromise
12:00 AM CDT on Sunday, June 17, 2007
[SIZE=-1]Terry Box

tbox@dallasnews.com

[/SIZE]
A
utomatic Corvette ought to be an automotive oxymoron.
Can you imagine Buzz and Todd firing up the 'Vette, lowering the top and slipping a prissy gear lever into "D" as they swing onto Route 66?
In my distant, misspent youth, Corvettes were big, rough solid-lifter beasts that radiated heat, horsepower and speed. They had ratty Fiberglass bodies, sidepipes that would set your bellbottom jean cuffs on fire and an idle that would rattle your mother's dishes. They needed hernia-inducing clutches and steel shifters.
So what in the name of the late, great L88 was I doing in a Corvette with only two weenie pedals on the floor? Having fun, I'm ashamed to admit – more embarrassing evidence of my slow slide into the gooey 21st century.
But there was a lot to like about my silver 2007 Corvette convertible with its six-speed automatic transmission and paddle-shift capability.
Get this: Two-thirds of Corvette coupes and three-fourths of convertibles are now sold with automatics. That's kind of disturbing.
"The percentage has gone up with the new automatic," said Harlan Charles, Corvette product manager. "In the past, with the four-speed automatic, the car performed well. But it always seemed like more of a compromise. Not now."
It doesn't hurt, of course, that the box is tied to Chevy's 400-horsepower, six-liter V-8 – a motor whose long roots extend back 52 years to the 265 Mouse. Name three other things born in the 1950s that have been as successfully updated as Chevy's small-block V-8. (And you can certainly count me out.)
Aside from a wimpy, New Age idle, this is a Mouse that still roars. Tied to the six-speed automatic, the engine thrusts the 3,200-pound 'Vette to 60 mph in less than five seconds, and it's still rated at 17 city and 27 miles per gallon highway. Tell me again why I need a Prius.
Chevy's pushrod V-8 – a design that was supposedly outdated a decade or two ago – delivers loads of torque anytime you want it and pulls hard to the 6,000-rpm red line. Under throttle, it even sounds pretty good now, breaking the tires loose from 20 mph rolls like some power-drunk punk car from the '60s.
The big news, of course, is the six-speed automatic, a $1,250 option introduced last year to replace the four-speed slush-box. The convertible base price starts at around $53,000, but most 'Vette ragtops – like mine – arrive with lots of options and a final ticket of 60 large or so.
In Dallas' spirit-sapping traffic, the 'Vette seemed to have a transmission ratio for almost every occasion. And when you take a stiff clutch pedal and overheated gearbox out of the equation, traffic here is little more than an angry sea of metal and malice. Piece of cake.
Fingertip shifting
In fact, the only time I gave the transmission a second thought was while trying to maneuver around an 18-wheeler driven by someone who appeared to be reading an instruction manual. When I punched the throttle, the car refused to grant me first gear.
It didn't matter. I staged a quiet coup by pushing a button on the steering wheel that engaged the paddle shifts and more or less gave me control. I like that.
As in most of these manumatic systems, you pull the small paddle attached to the backside of the right steering spoke for upshifts and the one on the left for downshifts – shifting with your fingertips.
It responds quickly and positively, though in all honesty, I came to view it as superfluous in city driving. The engine is so strong that it doesn't really need to be jiggled with in traffic.
But I imagine it could be very useful on a track, where you could downshift to set up for a corner and hold it in gear to blast your way out of it. I'm sure many of you were planning on loading the golf clubs into the Corvette on Saturday morning and hitting the track for a couple of laps before you rattle off to the country club.
The point is you could. Even now, when most modern cars are getting as fat as modern people, the Corvette feels well-balanced and fairly lean (the transmission in the front-engined 'Vette is mounted in the rear to contribute to its approximate 50/50 weight distribution).
At reasonably sane speeds, you can drive sloppily into a corner and still power smoothly out of it. It has extremely nice moves for a big-bottomed car – and is even equipped with a decent ride.
Nits to pick
My only semi-complaint was with the electrically assisted, variable-ratio steering, which is becoming as common in late-model cars as dazed drivers on their cellphones.
Most of the time, I liked the way the steering box moved from light effort at slow speeds to a heavier, more communicative feel at speed. A couple of times, though, the steering firmed up in midcorner at speed, which always got my attention. (My good friend Kelly Dykes and I were in his old '40 Ford coupe once out on Highway 121 when the steering box managed to shake itself loose from the firewall. That memory popped up very briefly while I was driving the 'Vette.)
I'm also not sure that the interior is special enough for a $60,000 car. I view the Corvette as one of the industry's great high-performance sports-car bargains, offering more power and handling punch than cars costing $20,000 more.
Others may see it as an overpriced American muscle car with too much average-looking plastic on the dashboard. Either way, a fix and more juice are on the way: The 2008 Corvette, which arrives in August, will have leather on the dashboard and upper door panels, according to Mr. Charles, the product guy.
Moreover, the 'Vette will get a slightly larger, stouter engine that should further enhance its growing bang-for-the-buck image – a 6.2-liter V-8 with 430 horsepower. If you order the optional Z06 bypass exhaust system, the motor will be good for 436 horsepower and zero to 60 in 4.1 seconds. The automatic should do 4.3.
If you think about it for a minute, this might be a good time to buy a Corvette. You can step up to the new, super-strong model in a couple of months or start shopping for end-of-year bargains on the current car. How can you lose?
"With the Corvette, we've evolved," Mr. Charles said. "We're making the car a lot more acceptable as something you can drive every day."
Civility is fine, I guess. And I like the new Corvettes, even the La-Z-Boy versions. But when GM finally delivers on the long-rumored 700-horse Z07 in a year or so, I hope it will be a 'Vette that can rattle my mother's dishes – in California.