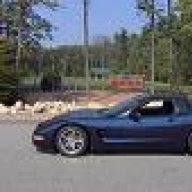 Joined

Jul 20, 2005
Messages

107
Location
Corvette

2000 Navy targa
I've got a bit of PIA problem with my removeable roof on my 2000 coupe, it creaks, like a rapid, loud, double creak when you go over major bumps in the road. IT REALLY SOUNDS LIKE THE ROOF IS LOOSE, IN THE REAR OF THE CAR, but you know how deceiving sound is in a car.
My car is navy blue and the panel is the lexan tinted type.
I have tightened the front strikers almost all the way down, and I have gotten inside the rear "ribbon" and tightened the loop that the rear hook attaches to, and beleive me it's so tight, I can barely secure it now. I've also covered the two sides of weatherstripping with some premium rubber dressing, which is in the Armour-all genre. I've also checked all the hardware that attaches the roof panel.
Yet, almost every time I'm on a dippy, rough pavement, I get the creaks up top, like the sound of a sheet metal car with a weld loose in the roof.
Imagine being inside a giant beer can that someone's twisting....
Could this be a just a bit of cowl shake/twist that's endemic of the design? I know the hydro-formed chassis is a pretty tough hunk of steel, but maybe it too has its limits. ONE more clue for you body people out there......this really is MUCH worse in hot weather, like an expansion with heat issue.
Any suggestions?
Thanks
Bluemill
;help

;help
EDIT: Bluemill, it appears your post had some form of code error at the bottom. I've deleted it to prevent any problems anyone coming across this thread may have.
-Patrick