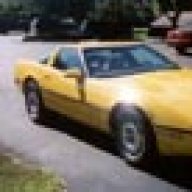 Joined

Jan 21, 2002
Messages

234
Location
Corvette

1986 "Speed Yellow" Coupe
I'm hoping I finally tracked down a vacuum leak that I've had FOREVER....

There are 2 vacuum lines going into the cruise control module. If I pull a vacuum on one of them, blocking the other, the module should hold a vacuum, correct?

If I block both holes and push in and out on the module, I shouldn't be hearing any air coming through, right?

If yes to both of these, I found the leak!

In addition, for a test, I disconnected the two hoses that go to the cruise control module and connected them to each other (one happens to fit nicely into the other). Once I readjusted my idle, the thing idled like a rock.