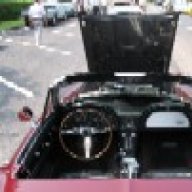 Joined

Nov 4, 2004
Messages

14
Location
Corvette

1967 SB Conv
I started a thread like this in the C2 section but know that this question applies to C3's as well so I am posting here also:
I am looking for words of experience with clutch disks.
Long story short I have been wrestling with clutch chatter problems on my 67 327 Vette but the same applies to C3 cars also, and I have pulled things apart now for the third time! Somewhat independent of that problem, I discovered that different clutch disks and different facing material on the disk can result in either smooth engagement or abrupt engagement. The photo attached shows the difference in an older GM disk (on the left) from around 1985 or so that I removed from my car, and a new LUK disk on the right. When I installed the new disk, I noticed that the engagement was much less smooth and downright grabby feeling. Even with some drive time it never did smooth out. When I pulled out my trans the second time last year (uugh!), I put back in the original disk shown on the left. The result was a much smoother engagement.
Now I have the clutch out again for the chatter problem, and I have purchased all new AC Delco clutch hardware. With new kit is actually a SACHS unit and disk with Valeo friction material. I have to decide which disk to put in...
Here is what I am looking for input on from this Forum: Are most people happy with the feel of your clutch after recent clutch hardware changes with disks that look like the one in the right of my photo shows?? I am trying to decide whether to put back in the original disk again (which has some life left but does show some wear), or put in the new SACHS disk that came with the kit. If the general feeling is that folks are happy with the newer clutch disks and have no problem with engagement, then I will put in the new disk.
Attached below is a photo of the two types of disks. The one on the right is a LUK disk, but my new Delco/Sachs disk looks similar. Any comments and experience would be greatly appreciated!!