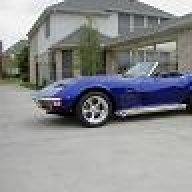 Joined

Nov 21, 2003
Messages

276
Location
Corvette

71 Kandy Burple Conv / 02 MY Z06
I've got a dumb question for you...
I just bought a set of 79-82 style Corvette seats from a local junkyard. I'm updating the seats in my 71 because I liked this style seat a lot when I had my 78 Pacecar.
What I can't remember from the old car or figure out with the new seats is how to release the seat backs so they fold forward or lock in the up position.
I can't remember if there was a button or lever or some other trick. The set of seats I purchased don't have any levers on the seat backs. One seat is locked in the up position and the other seat won't lock in the up position.
What's the secret? Am I missing a lever or is there a trick? :confused
Thanks.

Whiplash