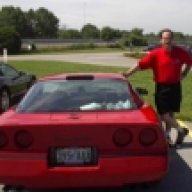 Joined

Oct 30, 2001
Messages

2,273
Location
Corvette

1986 Bright Red Coupe
Looks like I should be getting my Vette back from the shop soon (waiting on parking brake parts, being manufactured for me from unobtanium
)
Next on my list are repairs to the power mirrors and power windows.
The left-side mirror doesn't work at all, but I think I forgot to connect the harness last time I had the door panel off :eyerole . Right side, though, is odd - it moves up and down, but not left to right. I would suspect a contact in the switch, except that it's the same switch for both sides... Motor?
And the windows are s-l-o-w. I recall hearing about this as a problem with them as they aged, but can't remember if it's motor, regulator, greasing the guides, sacrificing to the gods, whatever.
And the power antenna doesn't retract fully, but does go down easily when I push it manually.
Any suggestions on where to start would be appreciated.
Thanks...