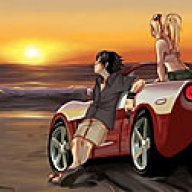 Site Administrator
Staff member
Administrator
Joined

Sep 16, 2000
Messages

13,790
Location
Corvette

1990 Corvette ZR-1
Ex-cop wins CC Corvette

By Gary Ogle
Telegraph-Forum staff
INDIANAPOLIS -- Retired Indianapolis policeman Bruce Banta might not have always gotten his man, but he did get his car. Even if it took him 45 years.
Banta, 70, and his wife, Joanne, won the red 1962 Corvette convertible raffled off this spring by the Colonel Crawford Eagles All-Sports Booster Club.
"Mark (Teynor) called me and told me I was the winner," Banta said of the memorable April phone call that was no joke. "We came over on my birthday, April 18, and claimed it." But as Banta is quick to point out, winning the raffle is only the final chapter of a unique story.
"It was a different situation," Banta agreed.
Back in 1962, Banta had just mustered out of the service and was getting ready to enter the police academy in Indianapolis. He happened to walk past a Chevrolet dealership and noticed a brand new Cor-vette, red with red interior and a white top, on display.
"I had a few dollars in my pocket," Banta said with a chuckle. "I ended up buying that thing."
Two months later, while still attending the police academy, Banta woke up one morning and looked out his apartment window only to see his new Corvette had been stolen.
"I got quite a bit of razzing while I was there at the school," Banta admitted.
A year later the FBI contacted Banta to say his missing car had been found. It was in a Tennessee gravel pit with several other cars. All had been stripped.
Banta never bought another Corvette. But 45 years later, after retiring from the Indianapolis police force and taking a job in construction sales, he happened to notice an ad for the annual Colonel Crawford Corvette raffle in a trade magazine.
He contacted Teynor and bought five tickets for $100.
It was a timely and productive investment in chance.
"It's exactly the same color, same interior and same top (as my other Corvette)," Banta said, noting the transmission and engine are different. "It is running fine and we've had it at several shows. My wife and I are having a wonderful time with it."
Banta's current Corvette sits in the garage when it isn't in a show or being driven. He said on those occasions he and Joanne drive it when they go out to dinner, he makes sure he has a window seat in the restaurant with the car in full view.
The Bantas have already won a plaque at one show with the 'Vette and have it entered in the All-Corvette Show in Indianapolis. He told Teynor he would be more than happy to hawk tickets at the show for the next Corvette to be raffled off by the Colonel Crawford boosters -- a black 1957 convertible with signet red interior.
"I certainly am (entering the 2008 raffle)," Banta said. "I told Mark to make sure and send me an application. I told him I want the same numbers (I had last year) too."
Recently Teynor took the '57 Corvette over to Put-In-Bay on the ferry to put it in a parade and advertise the raffle.
"We ran into people from Indianapolis who wanted to know about the Corvette," Teynor said. "We told them about the raffle."
They turned out to be best friends of the Bantas and were well aware of their good fortune from the Colonel Crawford raffle.
Another CC booster officer, Gordon Grove, said the raffle is one of three main fundraisers for the group. The other two are the annual reverse raffle and the Colonel Crawford Fall Festival.
"(In six years) I'm going to say we averaged around $27,000, $28,000 with the Corvette raffle," said Grove.
Teynor said this year's raffle netted slightly more than $40,000.
Those proceeds have built the new fieldhouse complete with weightroom and locker rooms at Gary Field. The boosters are also in the process of paying off the school's new all-weather track.
"In this day and age, the boosters fund so much for athletics," said David Sheldon, Colonel Crawford boys basketball coach and athletics director. "That's all volunteer service. That's huge. Without them there are things we just wouldn't be able to do for kids."
gogle@nncogannett.com
419-563-9225