F/S LTPWS sensors all sold*******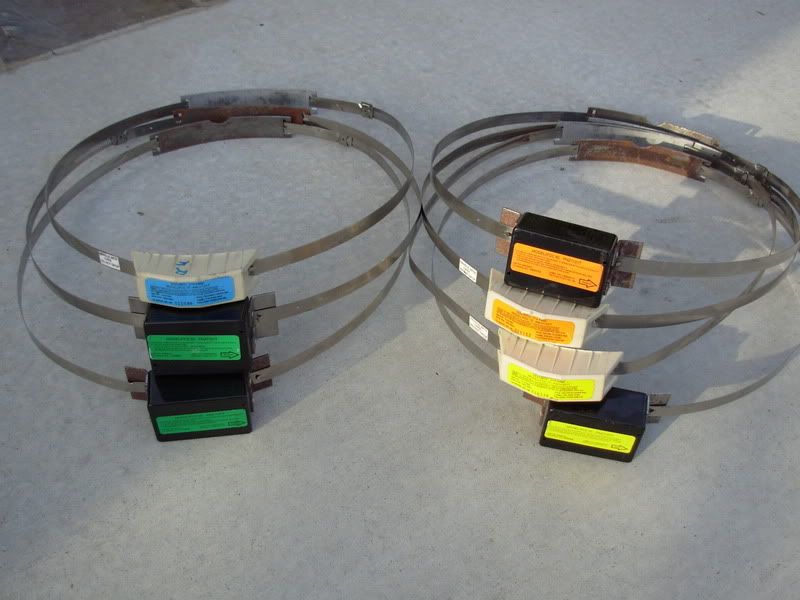 These are from various sets of wheels I had on my 1996 C4. They all worked when I took them off. I took them off because I race & they are not really useful for racing applications as you run pressures & tires very different from stock. Also taking tires on/off every few weeks they just get in the way. Multi sets of wheels resulted in my having these left over.
I think the black ones are originals & the white ones were made by a different vendor after GM ran out of the original bunch but
it could also be that they are for different late C4 model years.
They MAY work for more than one of the later model years of C4 and ZR1's and probably not the early years. Match the sensor color and label color to your dead one, or go by the part # on the dead one (or all the above).
There are NO BATTERIES in these, movement of the wheel provides the electric power necessary to power the transmitter, it's called "Piezo-Electric" energy.
They are specific and different for each corner of the car. They are very reliable until your tire changer crushes it, or you get a blow out & drive on the rim a ways.
These are, for the most part, no longer available from dealers or they might have an odd corner left in stock if you get lucky. Last price I got from my local dealer for one was over $350.
I am selling these for $175. each shipped CONUS. I will ship elsewhere but that shipping will not be included. I will list the GM part numbers and both the GM and Epic numbers for the white ones. Epic Technologies Inc. is the mfg. on the white ones.
Sold as is no returns, as there may be other problems with your LTPWS system besides the sensor. Could be receiver, could be RF interference, could be damaged on installation, could be something else.
PLEASE don't ask if this one will work on that car etc. I do not have time to do all that research & you need to do your own homework on it.
Read the FS guidelines if you are not familiar with how this works. No PM's except to close the deal & exchange shipping info. Start your own thread if you are selling one of these, etc.
Each includes strap & counter weight as you see in the pictures.
I reserve the right to sell locally or elsewhere or change the price at any time. I recently heard that a commercial source is getting $50. for just the strap & counterweight. Prices on scarce Corvette parts are a classic example of supply/demand economics.
LF GM p/n 88959446 black/green label ...............................sold
LF GM p/n 88959446 black/green label
LR GM p/n 88959444 black/yellow label
RR GM p/n 88959447 black/orange label
LR GM p/n 10161854 Epic p/n 10005002 white/yellow label
RF GM p/n 10161855 Epic p/n 10005004 white/blue label ........sold
RR GM p/n 10161857 Epic p/n 10005001 white/orange label
Thanks for checking out my FS.
I will keep the FS post up to date as each is sold off.
Add $10.00 for Paypal, I prefer PMO (Postal Money Order, NOT the same as your local bank/credit union money order) & I ship fast. If you don't do Paypal or PMO there will be a shipping hold until funds are clear usually 7-10 days.
__________________