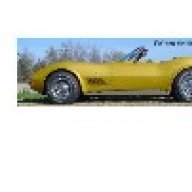 Joined

Dec 27, 2000
Messages

1,825
Location
Corvette

71 War Bonnet Yellow VERT 71 BH Blue CPE (SOLD)
The subject of when to replace a fan clutch has come up more than a few times. As I perused the Hayden (manufacturer) site
http://www.haydenauto.com/faq.html
I found a great deal of info; a bit of which I've gone ahead & posted.
FAN CLUTCHES
Q. How do I know if my fan clutch needs to be replaced?
A. These are the most common symptoms of a failed fan clutch:
• Leaking fluid - Oily build up around the bearing or thermal spring.
• Bad bearing - Seized, turns rough or has excessive play (more than 1/4" at fan tip).
• Worn thermal spring - Spring is loose.
Some fan clutches will show no visible indication of a problem yet may still be faulty. The following may also indicate a faulty fan clutch:
• Fan spins excessively - Three or more times when hot engine is shut off.
• Poor air conditioning - At low speed or excessive high side pressures.
• Doesn't engage - Fan speed does not increase or "locks up" when the engine is hot.
• Does not disengage - Fan clutch won't slow down when the engine is cold.
JACK:gap