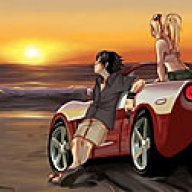 Site Administrator
Staff member
Administrator
Joined

Sep 16, 2000
Messages

13,894
Location
Corvette

1990 Corvette ZR-1
Fehan, O'Connell- GM Racing teleconference, part 1
Doug Fehan and Johnny O'Connell Media Teleconference
Doug Fehan, Corvette Racing program manager, and Johnny O'Connell, driver of the No. 3 Compuware Corvette C6.R, participated in an American Le Mans Series media teleconference on March 26. They discussed the team's transition to E85 ethanol racing fuel, the upcoming ALMS race in St. Petersburg, Fla., the current state of the GT1 category, the future of GT racing, and other subjects. Excerpts from the teleconference follow.
Q: How does a driver prepare for 12-hour endurance race versus a sprint race on a street course like St. Petersburg?
Johnny O'Connell:
"The approach to both is really the same. There used to be a time in sports car racing when I first got in, if you went to a long race like the 12 Hours of Sebring, you'd back up your pace a little bit to conserve the equipment. It's a very challenging and difficult race track, and very bumpy. These days in order to be successful you literally need to run every lap like qualifying. Our Corvettes are certainly capable of handling the abuse we give them. The mental approach between St. Petersburg and Sebring is the same. You're going out there and you aren't wasting any track time. From the second that you're on the track for practice or qualifying, you're pushing every lap as hard as you can. You're trying to give the best feedback you can to your engineers to make the car better. So the mental aspect is the same.
Q: In the physical aspect, a street circuit places more of an emphasis on your technique in slower corners. You don't have fast corners like you do in Sebring, although there is a kink in the backstretch that's very challenging. For the most part, it places an emphasis on the driver's ability to slow the car down, bring the car as deep into the corner as we possibly can, but also maintain that momentum to get out of the corner. The biggest thing when you're racing in St. Pete is that you've got to be mistake free. If you do make a mistake, it's going to hurt. The worst thing you can do is hurt a car and make your guys stay up all night fixing it.
Q: Corvette Racing will become the first factory program to race on E85 at St. Petersburg. How and why was this decision made, and what type of performance do you expect with the new cellulosic E85?
Doug Fehan:
It's an interesting story. For those who may not know, GM is the worldwide leader in the production of flex-fuel vehicles. We've produced over 2.5 million, and are the largest producer in the world. Obviously this thing has got some traction inside the company. About two years ago, as this was rising to prominence, I thought it was interesting to look at what the possibilities were to use ethanol-based fuel. We ran some very preliminary tests, just on a whim, in the dyno room. We had some very favorable results, but it my mind it was just an interesting experiment.
It began to gather momentum, and it's my responsibility to put programs together and to continue to withdraw funds from the corporation with which to drive these programs. So you have to find things that are of interest to the corporation and are broad-based. I got talking about the possibility of racing with E85, and it struck a chord. It resonated with some of those executives, and I saw this as an opportunity to glean funds to continue the program. At the same time, unbeknownst to me, the series was working to do the same thing. The American Le Mans Series has positioned itself as a leader in this area, and they were in pursuit of a similar thing. They called and asked if I would be interested in thinking about doing that. The timing was incredible, there was this confluence of thought. I jumped at the opportunity, took it to my bosses, and they thought it was a wonderful idea.
Corvette has always tried to position itself as a leader not only within GM but in the racing community. I think we're a leader in safety, the things that we've done -- helmets in the pit lane, HANS devices when they weren't required, side impact boxes we developed, side safety nets, I think we're the only GT manufacturer to crash test a vehicle to ensure its safety. This was a chance for Corvette again to demonstrate that leadership. We knew it would come with challenges, but we felt we were best equipped from a manpower standpoint and from a technology standpoint to deal with these challenges. Somebody has to be first, we wanted to be first, and that's what we decided to do.
It's been a very interesting road. We've had some challenges, and I think we've met all those. From a performance standpoint and a mechanical driveline standpoint, the transition has been fairly seamless. We did run into a small problem in working with our fuel cell manufacturer to develop a fuel cell that will hold the fuel, but I think we've reached that goal. St. Petersburg will be our debut with cellulosic E85, and we're quite excited about it.
Q: Is there any difference in performance using E85 ethanol fuel?
Fehan:
When you're talking about performance, I assume you're talking about horsepower and torque. There is virtually no difference. Keep in mind that this is a mixture of ethanol and race gas. It's primarily cellulosic ethanol. Because ethanol on a volume basis contains a little less energy than the gasoline we're accustomed to running, when you look at a typical individual cylinder combustion process, you have to have more in there to develop the same pressure. The thing that does differ slightly is fuel mileage, but from a power and performance standpoint, it's virtually the same.
Q: Have the fuel cells been increased in size, and was there a rule change to accommodate that?
Fehan:
They have been increased in size. There are a couple of areas here that need to be comprehended. The FIA has a general rule that they don't want any race car carrying over 110 liters. What the American Le Mans Series has done is stayed below that 110 and looking at what I just talked about, the fuel efficiency difference, we're going to be allowed to run 105 liters and those that choose to run gasoline in our category I think are running 90 liters.
The cells stay the same; they have blocks in them, and you tailor the volume of the cell with the blocks. In other words, say an Aston Martin runs 90 liters, I'm guessing that the cell probably holds 100 liters of fuel, but they put a volumetric control block inside the fuel cell that limits it to 90 liters.
In the Corvette we actually run two cells. They're split tanks, or saddle tanks, and they're on either side of the car because they're in the actual production position. Then there is a crossover between them. We're working very hard to get to the 105 liter mark, I think we're up to 102 liters now. I don't know that we'll actually be able to carry 105, but that's what the rules will allow.
Q: What's wrong with the GT1 class, and how frustrating is it for you to be racing against yourselves?
Fehan:
What's wrong with it is Corvette. Seriously, we're victims of our own success. I attend about six meetings a year with the FIA and ACO in Europe. It's made up of all the major manufacturers. I've had some very candid conversations with those manufacturers, and quite frankly when they look across the board at the economic investment, the commitment in time, and all the resources necessary that it would take to compete against us successfully, I think they kind of shy away from it.
Q: Is it hard to get funding from GM without much competition?
Fehan: It certainly is a challenge, but the fact that we're out there again this year in essentially the same position as last year speaks to the value of the program. The Corvette customer really does believe that when he buys a car, a couple of bucks out of the cost of the car are going to be dedicated to racing. We believe as long as we're building them, we should be racing them. It's in Corvette's DNA, you've heard me say that before. For example, last year in Corvette merchandise sales, which is no small ticket because it adds to the bottom line of the corporation, we raced against no one last and our merchandise sales were up 187 percent. That's millions of dollars. When you look at Corvette Corral participation, when you look at autograph lines, it's almost like going to the circus. The Corvette fans love to come out, they love to see the cars, hear them, smell them. The American Le Mans Series does a wonderful job with its 'for the fans' approach. They're down in the paddock area, they're mingling with the drivers and team, it's an event for them. The race is pretty much the frosting on the cake, and quite frankly, competition is the sprinkles on the frosting.
I would love to have more competition, everyone on the team would love to have more competition, and certainly our fans want more competition. But it's not a necessary, fundamental component for us to successfully market the car using racing. A testament to that is the fact that we're back again this year doing it.
Q: Tell me about your supplier since cellulosic ethanol is not commercially available.
Fehan:
It will, I think, shortly become more commercially available. The cellulosic approach only makes sense. As any new energy source gets developed, its composition, its manufacturing, its supply, all that changes and is always in flux. I want to preface any remarks I make here by making this clear: There is no one here who thinks that ethanol is the answer; ethanol is a part of the overall solution. That's why we chose to go in this direction.
Cellulosic ethanol doesn't take food out of the food chain. It's stuff off the forest floor, it can be orange rinds, essentially garbage. All the things that people look at in the cost or carbon footprint of a fuel, how much water is required in the production of it, how much water does it take to grow and irrigate and fertilize it, this is a huge science question that can be debated until the end of the world. The reality of it is that cellulosic, because it's made from scrap and garbage, is ultimately cheaper to produce. Cost plays a huge role in the use of ethanol because its energy content per volume is a little less.
We're very happy to have cellulosic ethanol. KL Design is the producer, and I think several other plants are coming on line shortly to produce cellulosic. In chemical composition, it's indistinguishable whether it's corn based or cellulosic based.
Q: Johnny, do you anticipate any difference in performance?
O'Connell:
Performance-wise, the program is always moving forward. There has been no loss in performance at all. We have run the E85, and the performance is as amazing as it's always been. One slight challenge that Doug brought up is that we need to carry a little more fuel, so there might be more tire wear. Normally a race car goes fastest when it's light at the end of its fuel run, so being a little heavier at the start of the stint we might be a little slower than we'd like, but we'll make that up on the other side. With us being on Michelins, tire wear is never an issue and we know we have their backing as we go forward with this program. For us, the very cool aspect is that all want to be as green as we possibly can and recognize that we do need to change things in order to keep racing in our culture. Chevrolet has always been an industry leader, not just in safety, so it's appropriate for us to showcase this. ALMS is broadcast in some 80 countries, so the attention that the series gets and Corvette Racing gets around the world is significant. It's neat to be part of a program that is moving things in a positive direction.