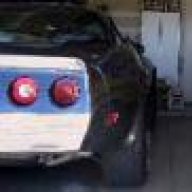 Joined

Apr 29, 2001
Messages

2,141
Location
Corvette

1981 HD Suspension; ZN1 Option
I want to thank all of you for the support provided.

This weekend, and while in the middle of a family reunion, I finally got the Vette ready for a test drive.

Now, someone would think that a reunion is way more important that working on the Vette, and they would be 100% correct; however, my brother-in-law Dave is a very good mechanic (still keeps his certification up-to-date), and he and the rest of my brothers-in-law wanted a weekend spent in my garage listening to sports, drinking some beer

, and of course working on the Vette (Dave has a killer 70 Nova that he drives to car shows every chance he gets, and Mark has wrenched on Harley-Davidson's since forever). Even my father-law enjoyed hanging out in the garage. It was a great time. The side benefit was getting the Vette ready.
Well, about 2 hours ago, Dave and I went for a test drive, and I can report that we got NO "check engine" flashes, no leaks, and no stalls. I will take-it-easy for about 500 miles, but the Vette sounds and feels strong.
Next stop will be a paint job!

GerryLP:cool