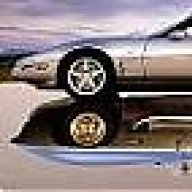 Joined

Apr 30, 2005
Messages

94
Location
Corvette

96 Coupe-white, LT-1; 04 Convertible-triple black
I recently bought a 96 LT-1 coupe for a daily driver as a result of a poorly planned hasty decision and I wondered how often this mistake is made. I sure wish now I had researched to learn more about C4s and spent more time looking at cars instead of being in such a hurry to get one. I paid 12K for a local car with 110K miles mostly because I caught late C4 fever, it was convenient and I just had to have it. In reality this was probably a 10K car at the most if that. Not long after the purchase I realized I was going to want to do a lot more work than I originally thought it needed when I first looked at it and I was not prepared for the cost of all those needed parts. It is amazing when you start to add up the cost to fix all the little things that you can find wrong on these cars. Fortunately I can do the work myself and I have a connection for GM parts at cost plus 10% so that helps. After I am finished with it and have added the cost it will still only be an LT-1 coupe with high miles but perhaps a fairly reliable one that looks good. I attended the Knoxville, Bloomington Gold and Carlisle shows this year and it didn't take long to realize I could have bought so much more car for 12K and this is not taking into account the additional thousands spent so far fixing this one. It has, however, turned out to be an opportunity to get real hands-on experience and education about C4s inside and out if nothing else. Anyone besides me ever put themselves through this? How did your experience turn out and in what way if any did you benefit from it?
Good points about this car:
Clean carfax, 3 previous owners, never out of South Carolina
No hit body, good original code 10 Artic White paint, light gray 141 interior
Clean cooling system, engine clean inside, transmission fluid still bright red
Runs and drives super, everything worked except power seats
Equipped w/ Sport Seats, Bose CD, Auto A/C,
Recent new waterpump and Optispark
Recent new blue tint roof from GM, original painted white and included
Recent new Edelbrock shocks
Recent Michelin Pilot tires
Recent brake pads
Hypertech programmer III included (used to change fan on-off settings)
What I have decided to fix on this 96:
Noisy Pre-cat or cats (something loose inside) - Replace both
Engine oil leak- looks like intake manifold end seals- Will replace soon
Transmission oil leak- looks like pan gasket and speedometer adapter "O" ring
Cabin water leaks- weatherstriping (ruined the carpeting) Replace everything
Seat track adjusters; DS, PS- failed plastic gears or bushings inside- Replace
Bose Radio panel lighting- 6 tiny size bulbs soldered to PC board- Replace
Windshield Wiper arms and blades- worn out- Replace
Parking brake mechanism- sticks, rusty from w/strip leaks- Replace
Dash Pad- edges curling from sun- Replace
Horn Switch- broken plastic- Replace
Lamps- Lenses (side marker, tail, stop, park-fog) scuffed or cracked- Replace
Door Panel- Rt side cracked, loose attachment- Replace
Dash trim panel; Console Plate- black Dulso coating coming off- Replace trim
Sunvisors w/lighted mirrors- floppy ears- Replace
Windshield header trim and rear Halo trim- cracked- Replace
Leather Sport Seats- cracked from neglect- No suitable replacement available
Turn Signal cancelling cam- broken plastic- Pull steering wheel to replace
Windsheld- small stone chip with small starburst cracks- not decided yet
Front Spoiler- beat up and abused- Replace all 3 pieces
DS Lower Dash Trim w/carpet- extensive rubbing wear- Replace w/ NOS
PS Lower Dash Trim- cuts from past unskilled interior work- Replace w/ NOS
Dash Squeaks & Rattles- Disassembled to replace all foam tape insulation
Rebuild brake calipers, flush brake fluid, turn or replace rotors
Service transmission
One other thing happened...as I get more involved with trying to make it into a better car I realized I am appreciating it more, bonding with it and enjoying a satisfying feeling of accomplishment after each successful improvement. This was supposed to be a driver Corvette I could drive everyday no matter what but now I find myself being protective with it, for example in what parking place I pick. I guess the Zaino will show up around here next. These cars sure are something aren't they??
Regards, Greg