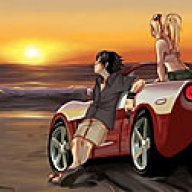 Site Administrator
Staff member
Administrator
Joined

Sep 16, 2000
Messages

13,790
Location
Corvette

1990 Corvette ZR-1
Four Paths to Corvette's Strength, Refinement and Quality
$131 million investment at Bowling Green Assembly helps lead to best builds ever
2013-10-02
GM Media
A 2014 Chevrolet Corvette Stingray frame makes its way down the composite line in the brand-new
$52 million Body Shop at General Motors Bowling Green Assembly Thursday, June 27, 2013 in
Bowling Green, Kentucky. On the composite line, twenty one robots and two production teams work
together to bond the composite panels to the frame. (Photo by AJ Mast for Chevrolet)
BOWLING GREEN, Ky.
– General Motors' $131 million investment in technology at the
Bowling Green Assembly Plant
, such as the first production use of a GM-patented process allowing aluminum to be spot welded to aluminum, is resulting in the strongest and most precisely built Corvette in its six-decade history.
New technologies enable more accurate and efficiently produced subassemblies, such as the frame and the components attached to it. Enhanced, laser-based three-dimensional inspection systems verify overall assembly tolerances targeted to be 25 percent tighter than the previous-generation Corvette.
"Many customers will never see the advanced manufacturing technologies used for the new Corvette Stingray," said Dave Tatman, plant manager, "but they will appreciate the benefits of these technologies every time they get behind the wheel.
"For example, the new aluminum-welding process enabled us to make the frame lighter and stiffer, improving the performance and driving confidence," he said. "Measuring 100 points on every frame reduces the chance for unwanted squeaks and rattles that would distract from the driving experience."
Approximately $52 million of the investment went to a new body shop that manufactures the car's all-new, lightweight aluminum frame in-house for the first time. The frame is not only the foundation for the car's greater driving capabilities, but the platform on which the
2014 Corvette Stingray
is more precisely constructed. It is 99 pounds (45 kg) lighter and is 57 percent stiffer than the previous-generation frame, resulting in a chassis so strong that the convertible model needs no structural reinforcements.
It is also the most complex frame design in the Corvette's history, featuring main rails composed of five customized aluminum segments, including aluminum extrusions at each end, a center main rail section and hollow-cast nodes at the suspension interface points – all with varied thicknesses that make the most of the strength and mass requirements of each respective section.
Assembling the frame requires more advanced joining processes and more precise inspection methods to ensure strength and dimensional accuracy. That is where aluminum welding, Flowdrill-type fastening and laser welding help ensure the high-quality targets for the frame.
Flowdrill Fastening
The Corvette Stingray's frame features 188 Flowdrill-machined fasteners with structural adhesive. The fasteners are installed by a high-speed drill that extrudes the frame material to create a strong, integral collar that is tapped for screw-type fasteners. It is a GM first for body structure joining.
Flowdrill fastening joins closed sections, where only one side has open access and where arc welding could cause heat distortion or weaken material. Dimensional quality is also maintained, eliminating the need for post-assembly machining.
Aluminum Resistance Spot Welding
Pioneered by GM,
aluminum resistance spot-welding
process is an efficient method for joining aluminum to aluminum where there is two-sided joint access. It is particularly effective with the thicker materials – up to 4mm – used on the new Corvette's frame. It is also used for welding aluminum extrusions, die castings and aluminum sheet metal. There are 439 aluminum resistance spot welds on the Corvette Stingray coupe.
The process is used in the Corvette's aluminum structure tunnel subassembly and in mainline attachments of various components. Additionally, licensed suppliers use the process to produce a few subassemblies for the car.
GM's new resistance spot welding process uses a patented multi-ring domed electrode that does what smooth electrodes are unreliable at doing: welding aluminum to aluminum – and it does it more cost-effectively than other methods of joining aluminum. The multi-ring domed electrode head disrupts the oxide on aluminum's surface to enable a stronger weld.
Laser Welding
Laser welding is used in the frame's tunnel subassembly to attach sheet aluminum closeout panels to the tunnel structure. The process enables continuous welding quickly when only single-sided access is available.
Additionally, the precise beam of high energy used in the welding process minimizes heat beyond the weld area for improved structural accuracy, and the laser creates a leak-free joint that does not require additional sealing, which could add weight to the frame structure.
There are two robotic laser-welding stations in the plant – one with a pair of robots and another with a single robot. Each robot has a dedicated laser power generator and together, they lay down 71 segments for a total of 37 welded feet on every frame.
Laser Vision Inspection
Laser-based vision inspection for quality assurance now includes Perceptron-supplied tools to monitor critical points on every Corvette body that comes down the line.
By checking every car and major assembly in the plant, process variation can be seen – and addressed – immediately. Tighter tolerances on parts and new, improved tooling for the Corvette's various assembly procedures are helping the plant achieve approximately 25 percent or greater improvement in meeting tolerance targets.
Perceptron is essentially a three-dimensional measurement system that uses fixed and robotic-mounted Helix laser sensors, or cameras, to monitor critical build features. It is a three-part "in process" quality inspection for frame rail assemblies, uniframe bodies and composite bodies with a fully dressed cockpit.
On the composite body alone, 39 specific points are measured. It takes approximately 2.5 minutes to measure each car in station to within 0.25 mm. One hundred dimensional measurements are taken with each frame assembly.
The 2014 Corvette Stingray is the seventh generation of the sports car, which has been built exclusively at the Bowling Green plant since June 1981. Shipping of the Corvette Stingray Coupe to dealers is underway. It starts at $51,995 including destination. The Corvette Stingray Convertible, which goes into production later, is priced at $56,995 including destination.
About Chevrolet
Founded in 1911 in Detroit,
Chevrolet
is now one of the world's largest car brands, doing business in more than 140 countries and selling more than 4.5 million cars and trucks a year. Chevrolet provides customers with fuel-efficient vehicles that feature spirited performance, expressive design, and high quality. More information on Chevrolet models can be found at
www.chevrolet.com
.
# # #
​