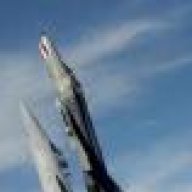 Joined

Mar 14, 2002
Messages

551
Location
Corvette

2016 triple black vert.
I was at the NCM for the Labor Day event this past weekend. Kirk Bennion's Night Race Blue had what might be the first front license plate bracket for the C7. I've attached a couple of pictures of it to this thread. It definitely looks better than what the C6's have which looks like an afterthought and more like the C4's and C5's. I believe he said that production models will have a center piece of the grill that comes out and this front plate goes in it's place. It is supposed to be easily removed and is recommended that it be removed for heavy track usage. I believe he said that 37 states don't require a front plate. I know Illinois requires one 12" off the ground but this is only about 9". Hopefully the police won't be bringing a ruler with them if you get stopped.
Several of us club members were going to a local restaurant and as we were walking through the parking lot a Laguna Blue C7 pulled up. We talked with the driver and he had dinner with us. He is a software integration engineer so we bent his ear for most of the dinner. He showed us a picture on his phone and asked what was wrong. It was a display of the dash. We noted that it said he was pulling 1.13G's. However he was going zero MPH.

He said it took about a week to straighten out that bug. We all got to sit in his car and he went through all the dash displays. Thanks Scott for putting up with us!
Finally, my 88 reached a milestone by turning over 60,000 miles on the way home.
Great time and I can't wait for the 20th Anniversary Caravan next year.
Ron
"Baldie88"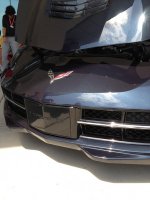 Last edited: