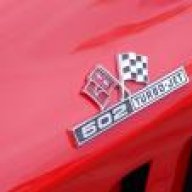 Joined

May 28, 2004
Messages

2,410
Location
Corvette

65 BB 502 Cp /MSD ATOMIC EFI/ 2009-HUMMER H2
I have a set of Sweet Thunder Side Stainless Steel pipes on my 65. They are the 2 1/4 " internal Baffel Type. They were purchased with out the front section or the pipe that follows the side cover forward curve towards the exhaust manifold. In other words, just a straight section of Chambered Pipe. I had a custom pipe assembly made up from the straight section to fit for the Sanderson Block Hugger Headers that are on my 502.
I'll be removing them sometime next week. They are custom fit for Sanderson Block Hugger Headers on a 502 in a Midyear. I can cut the front custom made curve section off which will leave the original Straight Sweet Thunder Section. You then can weld up a new pipe for your own front section applcation. Or take them as they are. It will make them harder to ship.
Remember ..these are for a C-2 Midyear. They have the rear mounting ring welded on. You could adapt the pipes for another application by cutting the ring off.
They are 2 years old and in good shape. Origial cost $400.00 for the pair.
There yours for $175.00. Shipping & Packing charges are on you from Zip code 08234.
Email:
mrkrichman@comcast.net