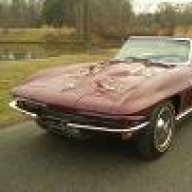 Joined

Jul 7, 2005
Messages

82
Location
Corvette

1966 milano maroon 427/390
Hello All!
As you may recall, I posted photos of a shop fire a while ago. I'm pleased to report that Hagarty came through with a handsome check with promises of more to follow as other issues surface. What a relief! I kept worrying that the car might be totaled or that they might give me a hard time. So far, my dealings with them have been a pleasure.
The car is now safe and sound with a body guy with 40 years of Corvette experience. In the process of getting the car to him, I became the Dolly Lama, building two dollies (with modifications to both of them). The first dolly got the body and frame out of the condemned shop and onto a drop-back. It had to be low to get under the car and has lots of 3" wheels to support the weight of the frame and body. It later had to be retrofitted with larger wheels to navigate the asphalt on the body shop lot (see photo below). The second is a body dolly (we're in body off mode now) and was based on the Noland Adams design. The body now rests on that as it is being stripped. My body man suggested larger wheels for the Adams design, and I modified the plans to accommodate 8" wheels. However, once the body (a vert) was on the dolly, the rear sagged from lack of support causing uneven gaps along the doors (may not be an issue with a coupe). To remedy that, I built an auxiliary dolly that I attached to the tail end today (not shown in photos). It provides support under the rear body mounts and looks like it'll work. There was also an issue with the Adams dolly interfering slightly with the radiator mounts at the front end. We'll have to cut into the dolly slightly to provide recesses for the mounts. Meant to take pics of the mod today, but forgot the camera.
In the near future, the questions will start flying. Will need info on getting the convertible frame rebuilt, the instrument cluster rebuilt (Jason Oliver?), and a whole slew of other things, but we're not there yet.
Regards to all!


Jeff
body dolly
Body on dolly. Note lack of rear support.
Door gap
Blocking at front body mount to raise radiator support above dolly. Need to modify dolly.
First dolly used to move body and frame from condemned shop. Note the dangling small wheels.