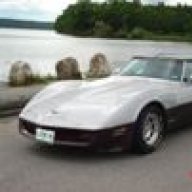 Joined

Jun 28, 2005
Messages

581
Location
Corvette

1982 silver/claret
I didn't have my laptop for about a month - darn that Toshiba!

I hope all are well. Living in Massachusetts is torture with the weather. Its snowing as I type this.

My baby still sits outside :-( but she is covered. The engine is making progress but Ricks truck was killing him with fuel costs so he decided to buy another car to commute in. Well his idea of a car with good mileage for "commuting" is a 1987 Monte Carlo SS (about 10 years ago I had an '85 SS).

I was hoping he would by a Hyundai because I knew if he bought anything remotely cool he would have to fix it up. Yep, he is fixing it up. Granted it needs work, but he can't just throw stuff on it, the old stuff has to be cleaned, painted etc.

He has nicknamed it "Crustene" - it came from Maine and sat for a LONG time and the salty air did nothing for her. Its a bit of a mess underneath the car and under the hood. The interior and most of the body was good but the rest....

I just had a Birthday and Rick bought me new seats for the vette! I am totally psyched and I can't wait to see them installed and sit in them. I have to get the carpets etc and some other stuff, so maybe only another $500 to go. It will be nice to to shell out a lot of money any more.

i am trying to get a friend of mine to go to Carlise with me. Rick says he has BTDT and isn't too interested and I don't want to drive to PA alone. I was hoping my car would be done before Memorial Day, I know the Monte is going to take at least 2 -3 more weeks. New exhaust, new manifold or headers and even new wheels. Well at least I know where he is!!

Good to be back and seeing the progress on the cars.