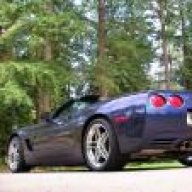 Joined

May 18, 2005
Messages

156
Location
Corvette

Supercharged LS6 6-speed Z06 Roadster
My car ('88 with 350 GM crate ZZ430 w/ '91 TPI) has been down for about four years during a long-term project to upgrade to headers. Once I got it back up and running in February, I noticed my oil temp gage was running high. It would start out normal for the first few minutes, but then would start climbing rapidly all the way to the peg at what I guess is about 320 degrees F by about 10-15 minutes from start. I couldn't rationalize this because coolant temp is running perfectly normal at 190 or so. I figured maybe it's the headers since the sensor is right underneath them, and I need to think about making a heat shield for it or something. But I also looked back at my maintenance logs and discovered I hadn't changed the oil on this car since '07, but haven't put even 1,000 miles on it since then either. Nevertheless, new filter and new synthetic 10W-30. Been driving it to work every day and checking the oil on the stick. Crankcase isn't smoking, smells normal, all seems fine. 20-minute drive to work every day, mainly been driving this car. Not sure what to think, but the drive is short enough that I don't think I need to worry.

Then today I noticed, about 1,000 miles from the last oil change about 2 months ago, that my oil pressure had dropped to the very top of the red zone, about 1/4 of the gage, what I assume is about 20psi. It usually runs around 40-50psi. Thinking that it might be the oil thinning out too much from the temps, I changed it tonight to Mobil 1 10W-30. It's still just barely above the red, maybe 25psi cold.

Total miles on the motor 23k. Running perfectly otherwise. I'm suspecting rod bearings. Any other diagnostics I should try or things to check before tearing down the bottom end, or is it not quite time to freak out yet?