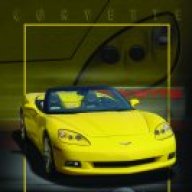 Joined

May 1, 2002
Messages

609
Location
Corvette

'95 LT1 Coupe, Comp Yell; C6 Roadster, Vel Yell
Some of you may have read a thread about this condition on many C6 LS2's on this site and others. Mine, with 12K miles is one of them. Through fuel pressure checks at various ambient and engine temperatures I have determined that the most likely cause of my fuel pressure loss at cut-off (total loss of pressure within 1 minute) is a faulty fuel return check valve. Instead of paying a dealer prox $1200-1500 for a new fuel pump/check valve assy, or dropping the tank and doing it myself, I think I'd like to try installing an in-line fuel check valve first. I have read a few posts for different cars, including C6's, indicating that installing an external check valve somewhere on the fuel outlet line running from the driver's side tank to the fuel rail has worked very well. I read that even installing one between the firewall and injector rail is enough to cure the problem, although it seems like there would not be much room to make this a clean install.

Has anyone done this, and if so what were the results? What parts, P/N's did you use and what difficulties did you have with the install. I think I can do this for less than $80 US so I am very tempted to try it. I am no auto novice and I have a lift in my garage so access to underneath the car is not a problem (if in fact that is where I need to install the line, instead of in the engine compartment).

Thanks for the help.