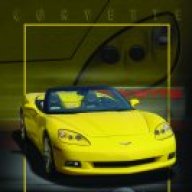 Joined

May 1, 2002
Messages

609
Location
Corvette

'95 LT1 Coupe, Comp Yell; C6 Roadster, Vel Yell
This has probably been beaten to death but here goes.....
'95 Stock Lt1 with 67,000 miles. Since I can remember engine has had intermittent higher-than-normal idle on a hot engine after cold start; around 900 rpm when hot. Turning ignition off and back on solves the problem until 20-30 cold starts later, then occurs again. Because I could always correct the idle with a restart I never much bothered to fix it. Lately, however, It started to bug me because after I researched the problem and replaced the IAC valve, it stopped doing the high idle thing but began up-ticking and down-ticking engine RPM about 200 RPM or so when hot, but not always...maybe 70% of the time. Sometimes when the tach ticks up it almost overrides the brakes! When it ticks down it feels like a misfire. Idle is pretty stable before and after. I can't say it is rough. When I floor it, no misfires to high RPM. Gas mileage on interstate is good at about 24.5 mpg.
Here's what I attempted to do without fixing:
1. New plug wires, plugs, and optispark.
2. Replaced the new cheap "made in China" IAC valve with a brand name one.
3. Thoroughly, and I mean thoroughly, cleaned IAC passageways, throttle plate, etc.
4. Scanned for codes but none present. Oh, last year an EGR code was set once. I cleaned and tested EGR valve and that has not returned.
5. Checked PCV for proper operation.
6. Checked throttle cable for correct operation.
7. Checked optispark vacuum control circuit for leaks. Optispark pulls modest amount of system-restricted air flow where optispark vacuum hose attaches to intake plenum.
8. Because it is intermittent I doubt a vacuum leak, but who knows.
I just returned from a 1500 mile car show in Myrtle Beach and car ran flawlessly, except when coming to a stop at a light, then that danged fluctuating idle thing! It might bounce that tack 5-6 times before the light turns green. I am at the end of my knowledge here. Any help is greatly appreciated.