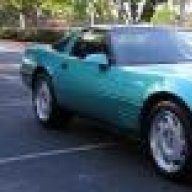 Joined

May 18, 2003
Messages

312
Location
Corvette

1991 Turquoise Metallic Coupe
GM Junkie you out there? Need your input!
So back in 2003 when I first got my C4, my Vette had squeeling brakes when they got hot with some noticeable brake shudder. The previous owner has installed Autozone brand brake pads to save $$ and I knew the pads did not fit properly and that caused the pads to sing. So I took my Vette to the dealership to have the brakes "checked". Immediately the service writer told me squeeling brakes on Corvettes is normal. WTF? I told him it is NOT and I want it fixed. They actually did fix it by replacing pads with factory pads and they also machined the rotors to get rid of the shudder. Problem solved.
Not long after that I took my motorcycle to the dealership to have tires installed. When I was picking up my motorcycle, another customer was picking up his bike which just had a new drivechain installed. I looked down at the newly installed drivechain and it was obvious the chain length was incorrect (it was too short) because the chain slack adjuster was all the way to one end and the rear wheel was up against its stops! I pointed this out to the owner. The owner confronted the service manager and guess what the Service guy said? You guessed it! It was normal! The two started arguing and I left before the shxx hit the fan!
Fast forward to 2010. I just bought a Certified Used Mustang GT and the brakes were squealing when they got hot. I could also feel a shudder. I knew the dealership had just replaced the car's brake pads as that is the first thing they do to a Certified Used Car. But the squealing and brake shudder were unacceptable. So I took the car back to the dealership where I bought it and told them I want the issue rectified. Guess what the first thing the Service Writer told me: Yup! It was normal! I almost fell out of my bucket seat! I looked the Service Writer in the eye with a stern face and told him straight out that him and me knew for a fact this behavior is not normal and I want it fixed. Well, they did fix it simply by re-machining the rotors to provide a clean surface for the new pads. Presto! No more squealing, shudder, and more braking power.
So I gotta ask: is it standard operating procedure for Service Writers/mechanics to tell customers that certain behavior in cars is "normal" when it really isn't?
These incidents were not the only times I've been fed that line of crap.