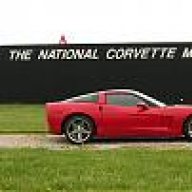 Joined

May 10, 2007
Messages

205
Location
Corvette

2007 Victory Red Coupe
New team. New sponsor. Indeed 2008 will be a new beginning for Dale Earnhardt Jr.

Hendrick Motorsports on Friday announced that contractual commitments to existing sponsors will preclude Budweiser from continuing as primary sponsor of the car driven by Earnhardt when he joins the organization next season.

"We have agreements in place with sponsors for the 2008 NASCAR Sprint Cup season, which prevent us from having a relationship with Budweiser," team owner Rick Hendrick said.

"Honoring our commitments is important to us. The trade-off is missing an opportunity to bring Budweiser, a marquee brand synonymous with NASCAR and its fans, into the fold."

On June 13, Earnhardt Jr. signed on to race for Hendrick Motorsports beginning in 2008, but primary sponsorship of his team remains undecided. No timetable has been established for an announcement.

ESPN.com previously reported that PepsiCo Inc. is expected to sponsor Earnhardt next season, while Anheuser-Busch is negotiating with Evernham Motorsports to possibly move the Bud sponsorship to Kasey Kahne's No. 9 Dodge next season.

"Budweiser has sponsored Dale Jr. for nearly a decade, and we wish him the very best," said Tony Ponturo, vice president of global media and sports marketing for Anheuser-Busch Inc. "Budweiser will remain an active sponsor of NASCAR, and we look forward to building upon the legacy of the iconic Budweiser red car in 2008 and beyond."

Budweiser has been Earnhardt's primary sponsor since his debut on May 30, 1999, at Lowe's Motor Speedway. Sunday at Chicago will be his 274th start with Budweiser.

A two-time Busch Series champion, Earnhardt has 17 wins, 72 top-five finishes and 116 top-10s in his Cup career. He has finished in the top five in points three times in eight full seasons, with a career-best of third in 2003.

"To climb into that red Budweiser car each weekend has always been a privilege," Earnhardt Jr. said. "Although Budweiser and I will be unable to continue our partnership beyond this season, I remain committed to driving for Bud the rest of this year, and will continue to make it my beer of choice.

"I'm a race car driver. All I can do is drive as hard as I can for my fans and sponsorship partners, and give my best effort each weekend."