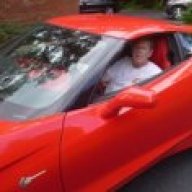 Joined

Oct 7, 2012
Messages

116
Location
Corvette

2012 GS Vert 2000 C5 FRC Pewter
Like so many others on here I too am an "old guy with a new vette". There seems to be so many of us that they should set up a separate forum for us! j/k. My personal odometer just clicked past 60 and have been retired for almost ten years. I split my time between Gold Canyon, AZ and Bloomfield Hills, MI. Just acquired my third Corvette, a beautiful 2000 FRC in Light Pewter Metallic with black interior. Car has only 14K miles on it. I acquired it from an estate of a Corvette fanatic, it was part of his extensive collection that ranged from a '54 to a new Z06. This is not my first vette and it will keep my 2005 C6 Sunset Orange Metallic Coupe company in my garage. I owned a C4 as well but sold it when I bought the 2005 new seven years ago. Wish I had kept it but I absolutely love the C6 and every time I drive it I am impressed more and more.
As much as I love the C6, in my opinion, I think the C5 FRC is the best looking vette ever made (i'm sure that will set off some controversy) and being a manual shift it is a blast to drive. The former owner did some upgrades on it, full Borla exhaust and a Haltech beehive. Outside of that it is completely stock. If the LE7 RPO was offered on a 2000 FRC I think this would come as close as possible bevause aside from suspension upgrades the car is pretty much option free. I was told that the car was orginally ordered to be modified for road racing but that never happened so aside from the upgrades mentioned no engine mods were done. As a result the car has never seen a race course.
Can someone tell me if there is a C5 Fixed Roof Coupe registry and if so where I can find it? If there isn't a FRC registry I'd be interested in starting one (anyone else interested?) I'm sure I'll have more questions in the future and hope to meet some of you at some vette events around the country, until then keep one foot on the gas and the other on the clutch, one hand on the wheel and the other on the stick!