Joined

Mar 29, 2012
Messages

2
Location
Well, im jumping head first into this one. In a nutshell this was not a planned purchase but.... here I am.
Little info on the car:
2012 GS Centennial Edition
50,800mi
ECS 1500 Supercharger kit
Kooks 1-7/8 headers
Kooks x pipe
Borla exhaust
upgraded the OEM MAP sensor to a ZR1 map

MGW Shifter

new plug wires

Monster LT1-S Twin disc clutch as well us new torque tube bearings
new starter

tuned
(dyno #s attached)
The mechanic who did the work on the car previously to me purchasing it told me due to what he was seeing on the dyno graph he recommends getting new valve springs due to lack of smoothness he was seeing. He also noticed some heat damage to some of the wire loom on the harness prior to installing the parts listed above. All those parts were purchased and installed on 2/23/19
So, besides the upgrade on the possibly worn out valve springs.... my first move is to try and contain all the hot spots i can. I plan on wrapping the starter, sleeving the starter wire, and wrapping the portion of the headers closest to the starter. (i will eventually coat the headers, just not right now) I would also like to sleeve the plug wires. Can anyone with experience with what i have here recommend anything else i should heat blanket? Right now my main concern is to just make the engine components safe from the heat.
What size and brand plug wire sleeves do you recommend?
Any advise i greatly appreciated! I look forward to becoming a more active and contributing member of this ground.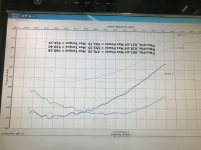 Last edited: