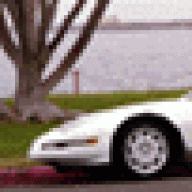 Joined

Nov 12, 2001
Messages

444
Location
Corvette

1992 Convt w/hard top; 2004 Z06 Z16; 1962 327/300
Ok, after several attempts, and about $1,000, my belt is still jumping tracks. The belt is jumping one "rib" or "track" towards the block. It appears to start with the main/balancer, and creep through the system taking the belt one rib backon the pulleys
Has ANYONE ever had this problem on an LT1???
In an attempt to solve the problem, a corvette specialty shop has been through the system as follows:
-Pullies all checked for play, free rotation, and straightness-fine
-Checked pullies with stethascope (sp) to listen to the bearings-fine
-laser sighted the pulleies (had to have balancer and hub machined to make them completly true, and the balacer machined to align it with other pullies as it was sitting almost one rib further forward)-fine now
-bench tested the tensioner, and inspected all of its parts-fine
At this point, it is takes 2 days or less of driving to work (30 mi each way +/-), and what not, to make it jump.
More history: The balancer was replaced in November after a dealer mechanic bent it with a pry bar trying to remove it. Since then, I have been having belts jump. The dealer keeps saying that I need to put a tensioner on (since this would come out of my pocket and not be their fault). When I told them that it was already checked, they say that it should still be replaced, just to eliminate it.
Please help. At this point I feel like dumping the vette, but I could not sell it in good faith with this problem=clasic catch 22.