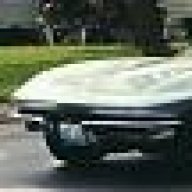 Joined

Aug 23, 2003
Messages

494
Location
Corvette

'66 Auto Mosport Conv, '65 Nass Blue 4-sp Air Cpe
I'm selling a complete new A/C setup for a mid-year small block Corvette which I've owned for a few years, but never got around to installing, since the wife was never sure she wanted A/C on "her" car. The price is $850.00 total, which includes delivery within the lower 48, delivery to other locations may require additional cost. I require payment thru PayPal or via direct transfer to my bank account, whichever you prefer. Payment by any other means will require prior approval, and sale is on a "first come-first served" basis. This system is from Old Air Products and is NOT a 134-A setup, it is for the previous R-12 refrigerant. The system is brand new, never been out of the box except for what was taken out for the photos below.
The compressor is a Sanden 505 (Japanese manufacture), which I was told by the Old Air rep, is more efficient and takes less engine power to pull than the original GM type compressor. It has the original style A/C ball vents at the left and right sides of the passenger compartment, and also has replacement radio side panel with adjustable vents for the right and left sides of the radio compartment. This gives each occupant two vents for A/C, one on each side of the occupant. The setup does not include the drive belt for the compressor, and I'm sure you'll need the engine pulley specific to your particular engine and option in order to have a working system. Complete installation instructions are included with the setup. The first photo below shows the condenser, compressor, and related engine brackets, hoses, etc. The second photo is of the evaporator, ducts, and vents. The evaporator mounts below the glove box, requires no alteration to the glove box or heater housing, and doesn't extend too much below the glove box.
This is midwest farm country, and I know personally that several John Deere combines and tractors have been readily converted from the R-12 systems originally installed to the newer 134-A systems now in use. I personally would use the system as manufactured, using an R-12 replacement "Freeze 12, or similar equivalent" instead of converting the system. But, if you want to convert it over, this should be the time to do so, since it has never been filled, is still completely sealed as it was shipped from the manufacturer.
I've tried to be as complete in my descriptions as possible, but I know you may still have a question or two. If you'll e-mail me, I'll be happy to answer. Send any questions to
rlmiller@bpsnetworks.com
, I'll get back to you as soon as possible.