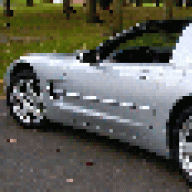 Joined

Oct 21, 2004
Messages

202
Location
Corvette

1998 Sebring Silver Coupe

Hi everyone,
Just wanted to get some thoughts on this topic. I have an expectatin of having a long term relationship (marriage huh?:L ) with my 98 Vette. And to that point, what do you think mods performed to a C5 may do to the value of the vette in say 15 years or so?
I seem to have this old, very old :eyerole , thought that when dealing with C1's, 2's and 3's, the value was greater if it was all OEM. I have read threads and sites on number matching, but this is far more than that. Heck, I won't even consider a color int. or ext. change due to color codes, build data, window sticker mismatch.
Now I do think that current performance is why most of us buy a Vette, but I've also heard it said that the purchase of a Vette was close to putting money in your IRA. My '98 is a driver

, not a garage princess, but I will be performing maintenance and replacement of components as the years go by. I don't want to 'second guess' the brain trust, aka Corvette Design Team, but I've seen a bunch of 'add-on's', from new seats, leather, shift knobs, exhaust systems, intakes, well you know the list better than I.
With all of that out there, what are your thoughts on doing mods and the value of a C5 down the road?

Joe