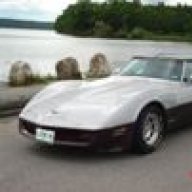 Joined

Jun 28, 2005
Messages

581
Location
Corvette

1982 silver/claret
as a single woman!!
;-)
The wedding is less than two weeks away (7/7) so I haven't been around much but I wanted to check in and see what was going on.
I am still unable to drive the vette. Its to the point now that its a running joke with a neighbor who walks by with his dogs every night and yells something out. The other day I was covering the car back up as it was going to rain and he yells over "someday Lori, someday"! Bahstard! LOL.
So tonight Rick yells out to him, "at least she has a classic car! " Turns out the neighbor years ago had an old Mustang but got rid of it when they had kids. Now the youngest kid is 22 so maybe he will get something.
So I am HOPING that by August the new motor and tranny will be done since the Monte "project" is hopefully going to be ready for the wedding. So its been a bit of a bummer every time I see a vette or other classic car drive by. Since I bought the car I have yet to have a full season (may - Nov) driving it.
Well I hope you are all doing better than I when it comes to having your vette on the road.
Stay cool!!
Lori