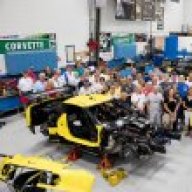 Joined

Aug 26, 2004
Messages

3,488
Location
All New For Members!
Carfax
-Members now receive a 20% discount on Carfax reports. To access this benefit, you will need to log in to your member services account online.
Member Section
- The much anticipated Member Only/Sign In section is now live! Here you will be able to view your personal information, donations, registrations, member-specific information and links and you will even be able to reprint your membership card if needed and see when your renewal date is (if applicable) and when you joined.
Direct links for member-specific benefits are also viewable and all codes or log ins are included. And even better, you can download your member card with barcode to your mobile device!
There are two ways to access your member information. You may click on the upper left corner on "Who Am I" and select Member or use this direct link:
http://webservices.<wbr>corvettemuseum.org/Client/<wbr>index.cfm
New Tour Opportunities for Club Visits
With the extended closure of Plant Tours, we have put together new tour opportunies for your Club Visit.
RC Components -
The leading wheel manufacturer for motorcycles and aftermarket automobile wheels is located in Bowling Green and has graciously agreed to offer factory tours for our Corvette Groups.
Planes, Trains, and Automobiles
- This great tour package includes the best of Bowling Green - The Heritage Aviation Park, Historic Railpark and Train Museum and The National Corvette Museum.
NCM Motorsports Park
- Of course a visit to the NCM would not be complete without a trip across the road to the MSP. Not only can you get your Corvette out on the track for Touring Laps, but now you can also schedule time on the new Kart track!
As always, activiies are based on availability and must be scheduled in advance to take advantage.
Upcoming Club Visits
May 14 - Corvette Club of Kansas City Visit
May 18 - Central Florida Corvette Club Visit
May 23 - Colorado Corvette Club Visit
May 23 - Tri-boro Corvette Club Visit
May 24 - Corvettes North Car Club Visit
May 25 - East Tennessee Corvette Club Visit