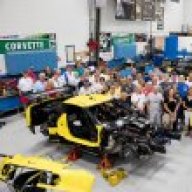 Joined

Aug 26, 2004
Messages

3,489
Location

​
This Week's Stories...
Blue Angel Corvette
Michelin Bash Next Week!
Living the Dream
Two Chances to WIN a Corvette Next Week!
Have a Seat in the Chevrolet Theater
Corvette Store Featured Items
NCM Events
Titan 4-Post Parking Lifts Store More Corvettes
Radar Detector Mounts and more from Great Lakes Trophies & Engraving
​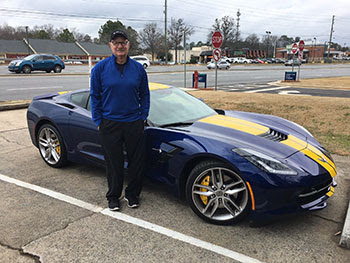 Ground-Bound Blue Angel
​
For Sparky Lersch, owning a Corvette was a dream since high school, and attending the Naval Academy to play football is what helped him realize his dream.




Flash forward decades, and those fond memories of Corvette ownership is what made Sparky realize that his final bucket list item was to again own a Corvette. You're not going to want to skip reading this touching Corvette story...
​
Michelin Bash Next Week!
With over 1,300 of your pre-registered for the Michelin NCM Bash next week we're making last minute preparations to guarantee you have an excellent time! Didn't pre-register? No worries! On-site registration will be available when you get here.


We're excited to welcome the following Store Partners who will have vendor booths setup at the event: Adam's Polishes, C-Magic, CarArtWork, Carera Slot Cars, Corsa Performance, Dana Forrester Watercolors, Excel Sportswear, Kim's Gold Dust, Laid Back, Mike's Custom Steering, Second Story Interiors, Southern Car Parts, Titan Lift, Weapon X Motorsports and WindRestrictor.


The Corvette Racing trailer with the #4 C7.R will be here - don't miss out!


And lastly - we've been keeping a secret from you guys... for the past 9 months we've had a project car we've been working on. And the reveal is Saturday at 12:30pm CT in the Conference Center. You'll want to hear the story, and bring some tissues. Believe me, you'll need them.
​
Living the Dream
​
We would be willing to bet that the majority of you reading this email have taken your photo in front of our "Living the Dream" banner outside of Victory Lane at the Museum. And now, you could be the owner of that very banner.


Though weathered and faded, the banner represents thousands of R8C delivery Corvettes who have driven past it, stopping for photos, thousands of visitors taking family pictures and selfies, and thousands of Corvette memories. Displayed from Spring 2013 to Spring 2017, the 9' 2" x 21' piece is up for auction on our eBay account, with 100% of the proceeds going back to support YOUR Museum.
​

​
​
​
Only $10 to WIN a Corvette!
​


Next week we raffle off TWO Corvettes!

Friday, April 28, 2017 at 3pm CT
2017 Watkins Glen Gray Grand Sport Coupe Collector Edition - VIN 0003!
Tickets $200, Limited to 1,000 Tickets
As of Thursday, April 20 we've sold 781 tickets.
​




Saturday, April 29, 2017 at 3pm CT
2017 Torch Red Corvette Convertible
Tickets only $10 each!
We will cut off tickets sales well before the drawing time, so please place your orders early.
​
Have a Seat in the Chevrolet Theater
​
A limited number of seat naming opportunities in the Museum's Chevrolet Theater are offered. Donors may choose from available seats and specify what is printed on the naming plate. Plates can accommodate up to five lines of text, with a maximum of 30 characters and/or spaces per line. Cost is a tax deductible contribution of $1,000.


With a new Corvette history film to debut in the theater soon, you don't want to miss being a part of this special space in the Museum!
​
​
Corvette Store Featured Items
​
​
C7 Corvette Junction Polo

$65.00

​
​
C7 Grand Sport Embark Jacket

$98.00

​
​
​
Upcoming Museum Events
Michelin NCM Bash | April 27-29, 2017
Museum in Motion Annual 'Tail of the Dragon' / Biltmore (Asheville, NC) | April 30 - May 3, 2017
Museum in Motion: NASCAR in the South (Charlotte, NC) | May 8-13, 2017 **SOLD OUT**
C4 Gathering | May 18-20, 2017
Museum in Motion 24 Hours of Le Mans (France) | June 10-21, 2017 **REGISTRATION CLOSED**
NCM Le Mans Viewing Party | June 17-18, 2017
Museum in Motion Northwest Passage (Oregon / Washington) | July 26-30, 2017
Museum in Motion California Dreamin' | August 18-23, 2017
Museum in Motion 'Diamond in the Rough' (Roanoke, WV) | August 27-29, 2017
23rd Anniversary Celebration | August 31 - September 2, 2017
Museum in Motion National Parks Tour (Arizona / Utah) | September 17-23, 2017
Museum in Motion: Kentucky 1-Lap Tours | October, 2017
Vets 'n Vettes presented by Mobil 1 | November 2-4, 2017
National Corvette Caravan | August 28-31, 2019


View a complete list of events with more information and links to register on our website here.

​
Last edited: