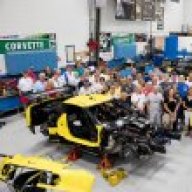 Joined

Aug 26, 2004
Messages

3,489
Location
June 22, 2017​

​
This Week's Stories...
Family Surprises Dad with Corvette
Travel to the Pacific Northwest with NCM
Admiral Blue Grand Sport Winner Drawn
Help Find this 1966 Corvette
Third Place Dramatic Finish at Le Mans
Corvette Store Featured Items
Upcoming NCM Events
Family Surprises Dad with Corvette
Neckties, cologne, tools, grilling supplies, a card - most of us pickup a small item that may or may not be very meaningful for dad on Father's Day. But for one Owensboro, Kentucky man - he received the surprise of a lifetime.


Randy had been a fan of Corvette for a long time, owning two in his younger years with plans to purchase another "one day." Wife Stacy decided that "one day" was now. We hope Randy's reaction to his gift puts a smile on your face like it did ours!


​
Travel to the Pacific Northwest with NCM
It's not too late to jump on our Museum in Motion to the Seattle / Tacoma area of Washington State! July 26-30 we'll hit the road for our Northwest Passage trip, visiting the beautiful Mount Rainier, the popular Pike Place Market, Seattle Center (home of the Space Needle) and the ever popular Lemay Museums. Your trip includes a four-night stay at Cedarbrook Lodge, all breakfasts, two lunches and one dinner, all admissions and tours. You'll also receive a souvenir custom event hardcard credential with lanyard.
Admiral Blue Grand Sport Winner Drawn
Congrats to Robert Adams of Denver, CO - winner of our 2017 Admiral Blue Grand Sport Raffle with ticket #611. We sold all 1,000 tickets!


Your next chance to win a Corvette is Thursday, July 13 when we raffle off a 2017 Watkins Glen Gray Stingray Coupe! Tickets are $150 and the raffle is limited to 1,000 tickets.


Help Find This 1966 Corvette
For many people, Corvettes hold special memories of loved ones. For Peter Geiger, that memory is of his brother, Robert J. Geiger. Robert, a lover of America's Sports Car, had a unique 1966 Convertible in which he owned from 1973-75. It wasn't like any other Vette – and that's what makes it so special to Peter. Peter is on a mission to find Robert's Corvette and you might be able to help!


​
Third Place Dramatic Finish at LeMans
Corvette Racing has experienced highs and lows in its 18 appearances at the 24 Hours of Le Mans. America's premier GT racing team added to that Sunday with a dramatic third-place finish in the GTE Pro category with Antonio Garcia, Jan Magnussen and Jordan Taylor climbing onto the podium together for the second time in four years.


The No. 63 Mobil 1/SiriusXM Chevrolet Corvette C7.R came back from an early-race puncture and clawed its way back into contention before barely missing out on its ninth class victory at Le Mans since 2001.


Oliver Gavin, Tommy Milner and Marcel Fässler placed eighth in the No. 64 Mobil 1/SiriusXM Corvette C7.R. The trio had a fight-back of their own after Milner lost a wheel in the opening half of the race. It proved to be the only mistake by that trio but the four laps lost proved costly as the GTE Pro race was as much as a seven-car fight into the last six hours.


.

​
Corvette Store Featured Items
​
​
C3 Corvette Emblem Ladies' Racerback Tank
$18.00
C7 Grand Sport Corvette Fluid Cap Covers Set
$119.00


​
Upcoming Museum Events
Museum in Motion Northwest Passage (Washington) | July 26-30, 2017
Museum in Motion California Dreamin' | August 18-23, 2017
Museum in Motion 'Diamond in the Rough' (Roanoke, WV) | August 27-29, 2017
23rd Anniversary Celebration | August 31 - September 2, 2017
Museum in Motion National Parks Tour (Arizona / Utah) | September 17-23, 2017
Corvette Racing Banquet at Embassy Suites by Hilton, Seaside CA | September 23
Museum in Motion National Parks Tour II (Arizona / Utah) | September 24-30, 2017
Museum in Motion: Kentucky 1-Lap Tours | October, 2017
Corvette Racing Weekend at AACA Museum | October 20-21
Vets 'n Vettes presented by Mobil 1 | November 2-4, 2017
National Corvette Caravan | August 28-31, 2019
NCM Quick Links
Corvette Store
Become a Member
NCM Insurance
Build Sheets
Corvette Raffle
Give Now
Museum Homepage
Last edited: