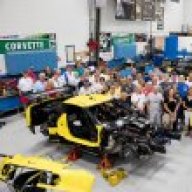 Joined

Aug 26, 2004
Messages

3,487
Location
Win a Piece of Corvette History

<article> </article>
The National Corvette Museum opened in 1994 to much fanfare. We are now auctioning off the car information display boards for the Corvettes that were exhibited when the Museum first opened. You could own the original board for the world's only 1983, or the 1992 "One Millionth" Corvette, 1978 Pace Car, Aerovette and many others! Bid online here. Auction ends Tuesday, August 23.


​

Corvette Store Featured Item

<article> </article>
Corvette Bling Ladies' Sweatshirt
$44.00

​
<tbody>
</tbody>
<tbody>
</tbody>
Help Beautiful the Bricks
In an effort to continually improve the look of the Museum grounds we are offering a new brick beautification program where weathered Walk of Fame bricks outside are replaced. Those participating in the program are rewarded with a premium brick location by our turntable display, which is not available for purchase. The recognition brick can accommodate up to three lines of text, 13 character and/or spaces per line.

Cost to participate is $1,000 which will replace 12 bricks. To help improve your Museum please call Becky at 270-467-8836.
​
Motorsports Park Highlighted on Car and Driver
Car and Driver recently attended the Skip Barber Racing School at the NCM Motorsports Park and has shared a nice review of their experience. The event uses the 1.97-mile, 15-turn Corvette Race Loop. You can check it out his piece here, and if you are interested in participating, their next event is August 29-31. Learn more here.

As for the track itself, writer David Beard shared "This circuit offers an excellent combination of fast straights, double-apex corners, and blind off-camber turns, one of which is appropriately named Sinkhole. (Read these stories if you don't get the reference.) This section blindly falls away to the tune of 40 feet after a right-hand double-apex corner and then quickly climbs left into the esses. Be careful to mind your unloaded suspension here, or you may be sinking some money into your rental racer."

Corvettes at Carlisle

The annual Corvettes at Carlisle event is just over a week away... August 25-28. Vettes, vettes, and more vettes – about 4,000 in total. The Corvettes at Carlisle show is the world's largest Corvette extravaganza and provides Corvette enthusiasts from all generations with a weekend of entertainment, education and of course the ability to drive in the famous parade. Activities include autocross, burnouts, shopping at the swap meet and from a wide variety of vendors, an all Corvette car corral, Manufacturers Midway and Installation Alley. This year not only will the Corvette Store and NCM Insurance have booths for browsing but we will also be taking our GS90 and Greenwood Corvettes! Learn more online here.
​