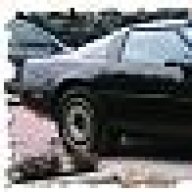 Joined

Mar 1, 2006
Messages

24
Location
Corvette

1985 Black Coupe
Hi folks, me again .. lol

i have an 85 L98 with a 4+3.

Starts well and runs well, but i having a hard time figuring what might be causing the jerkness when driving at a steady speed (30, 40, 50 m/hr). when i eccelarate (hard) no problems, sometimes when i accelarate softly, she seams to hesitate. but the funny thing is .. is it seems to be worse on hot, humid days ..

Here is what i've done thus far,
- changed the plugs
- changed the wires (8.8)
- changed the distributor cap and rotor
- replaced the coil (on top of the distributor)

Not sure what else to try .. before i have to spend the big $$$ and take it into the dealer or shop. a friend suggested the Oxygen Sensor, fuel filter .. really don't know ..

anyone experience this?