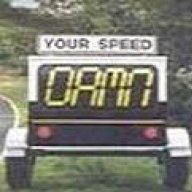 Joined

Jan 7, 2005
Messages

146
Location
Corvette

2004 Torch Red Coupe
Brian the wholesale manager at WheelWarehouse sold me a set of CRAY Scorpions for "wholesale" so a CHROME set with 17x9 fronts and 18x10.5 rears with chrome center caps, chrome lug nuts and chrome wheel locks including shipping to Arkansas was $1,506.00. They look good on my 2004 torch red C5.

Only one place in town had the special equipment to mount them with the original Goodyear Eagle run flats and they said it was impossible to use the tire pressure monitors as the the plastic monitors would get demolished during the tire installation. The tire expert said that tire pressure monitors weren't critical with run flats, so it wasn't much of a sacrifice, but I was somewhat disappointed because the CRAY ads all say the Scorpion is specifically made for the Corvette and accepts the tire pressure monitors. Unless someone knows how to install run flats on Scorpions with tire monitors and can explain it well enough for me to tell the locals, I guess I am without monitors.

Anyway, I got to see that my front end badly needed alignment (the tread on the inside of both front tires had worn down 2/3 of the way in only 17,000 miles). But was frustrated to find that no one in town had alignment equipment that would work with front tires that wide on a car that low.

Anyway, now I am now in the tire market too. With 1/2" wider front rims and 1" wider rear rims I need some tires about that much wider than stock.
The rear is a P275/40ZR18 and the front is a P245/45ZR17. Anyone know what size I need to look at for replacements with the wider rims?