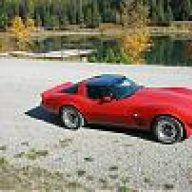 Joined

Nov 1, 2007
Messages

31
Location
Corvette

1979 Red L-82
I am very happy to be introducing myself as a new member. Owning a Corvette has always been a dream of mine and my wife ever since I helped my brother start his Corvette repair shop in 1988. Back on 9-11 of this year we purchased our car on E-Bay from a place in Florida. We recieved it one month later and we were able to do 3 quick trips before the weather closed in. This car is all original and number matching.
This is a small town but the last trip was a blast and we are both hooked. Three couples got together with our 3 C-3 Vettes and went on a 150 mile trip through the mountains and then stopped at Dave Smith Motors to kind of show off, I guess, and get the price of new Vetts and decided that what we have is great.

Back at the beginning I said that I was happy to be introducing myself. The reason is back on March 19 I had a heart attack and my dear sweet wife and daughter did CPR on me for 25 minutes till the ambulance got to our place. They used the AED then and I ended with one stint. I am glad that they both are EMT's and I am now an ambulance driver. Anyway, we decided that you definately can't take your money with you when your time is up so we bought a Vette and are having a blast. I got a little long winded so I will say bye for now.