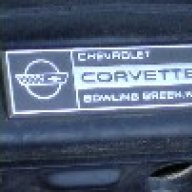 Joined

May 26, 2003
Messages

2,760
Location
Corvette

1986 Black "Indy 500 Pace car replica"
Well I replaced fuel injectors, and put a air pump pulley on the car. The car started and ran fine. I a little rich because I dont have the new tune yet. However the car idled for about 10 minutes before I took it out for a drive. I got about ten miles from home when all hell broke loose.

I hear this noise that is the most terrible squel I have ever heard. I cannot really find anything. It does change tone with engine speed. It sounds like it is coming from the coil area. Also when I apply pressure on the top of the plenum it changes tone slightly. The kicker of the deal is when I turn the motor off the tone stays for about 1 second than fades a little then just quits. It almost sounds like an audible alarm of some kind. Any suggestions before i go tearing into things tomorrow??