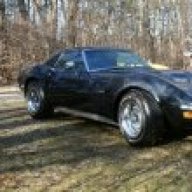 Joined

Nov 2, 2007
Messages

441
Location
Corvette

1972 LS5 Convertible PS, PB, A/C
So, I've got a spare quadrajet that I'm going to rebuild so that I can learn how they work. . .and practice how to rebuilt the one on my vette.

I have a few books, and I'm reading through them.

One of the things that i have not yet come accross is how to identify the "size" of existing parts. . .like Jets, Needles. . .etc.

Is there a simply way?

For example, I know that my engine is running lean right now (temps have averaged 50 degress recently). Can this be due to cool temps? Or would this lean problem be a year round? If it's a year round, then I assume that I need to increase the jet sizes. . .but I have no idea what I have currently. Hence my question. Not sure if I need to change the needles as well.

Second to last, I read in the carb book that I should change the accellerator pump push rod to the other hole when the weather is cold. . .to prevent quadra boging. . .which I am seeing. Does anyone do that?

Lastly, has anyone used quadrajet parts from Fliffs High Performace Quadrajets? If so can you share your experiences?